In Loving Memory of
K9 SPEC
June 2005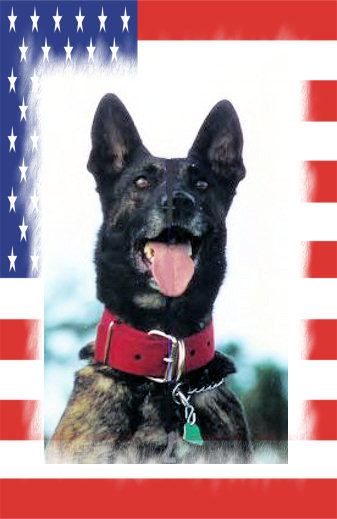 Handler: Trooper Joseph E. Mosca
Florida State Highway Patrol
K9 Spec began her career with the Florida Highway Patrol in July, 1999, assigned to Trooper Joseph E. Mosca. Her most significant seizures include 1.2 million in U.S. currency, 9 kilos of Heroin, and 18 marijuana hydroponic labs. K9 Spec was recognized many times for her dedication to duty by State and Federal Law Enforcement Agencies. K9 Spec was retired from active service in June, 2005, and later died of health complications.
submitted by Bobby Earls
---
In Loving Memory of
K-9 SHADOW - SAR
December 9, 2003 - November 5, 2005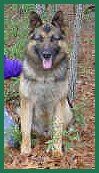 Handler: Laurie Babson
Brunswick Search & Rescue Team
Brunswick County, North Carolina

It is with much sadness that we recognize Laurie Babson and her SAR K9, Shadow, and his passing this morning. Shadow was a prison dog prospect in training and would not do the bite work. Laurie obtained Shadow eight months ago and he has been in SAR training with our team since that time. He showed great prospects of being very close to his certification level in RD and trailing, with his certification tests planned for the near future. We are saddened that Shadow did not survive the emergency Gastric Torsion/Bloat surgery he had on Friday and passed away while still at the vet's last night. All of us that had seen him work knew he was on his way to being one of the great ones in HRD. I'm grateful to have loved and been loved by him.
---------
Our prayers and thoughts are with Laurie. Shadow did not make it through the night last night. We love you Laurie and are so saddened by his death. We will never forget last Saturday at a marathon training when several dogs indicated on a bone and couldn't quite pin point the location. We weren't going to leave that bone out there in the training area. Shadow, the fourth dog in, foraged through that brush area and proudly pranced back to Laurie with the bone in his mouth. Ok, not the ideal indication/alert but we were all so happy and proud of Shadow as he grinned at Laurie with his prize. This awesome dog had a bright HRD future. Shadow was full of drive and energy, never stopping. We sometimes teased him about his high drive and Laurie being able to keep up with his motivation. Shadow has represented us wellin several PR events and activities. This is truly a loss for BSAR and Laurie. Our hearts go out to Laurie and her dedication, and we will always remember "OUR SHADOW". A gorgeous boy with a heart of gold imported from Czechoslovakia. We will be seeing him again at the Rainbow Bridge as he waits to "nudge" Laurie's hand, doing his circles, and anxious to start that search. Shadow was buried this afternoon with his SAR collar and purple peanut. He is running free now with the other SAR dogs who have preceded him to the Rainbow Bridge.
Condolences can be sent directly to Laurie at grmare@earthlink.net
submitted by Anne Lowatchie & Christy Judah, SAR Tech I, Chief
---
In Loving Memory of
K-9 SAMMY
October 31, 2005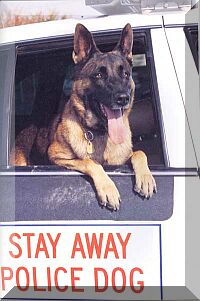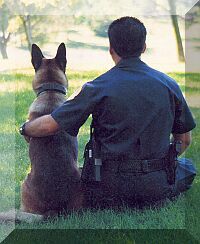 Handler: Sgt. Andy Schlenker
Modesto Police Dept.
600 10th St. - Modesto, CA 95354
209 572-9500

Icon K-9 Sammy dies with Partner at his side -
by Chris Togneri - Bee Staff Writer - Nov. 1, 2005
One of the most celebrated crime-fighters ever to work for the Modesto Police Department died Monday. Sammy, a retired police K-9 dog, died from complications of cancer at age 14, police said. He was with his former partner, Sgt. Andy Schlenker, when he died. From 1993 to 1999, Sammy assisted in more than 100 arrests and won more than 200 trophies in dog competitions. Three times Sammy was named top dog by the Western States Police Canine Association. Twice he was runner-up. Sammy retired from the force in 1999, when he was diagnosed with bone cancer. One of Sammy's legs was amputated as a result of the cancer, but that didn't slow down the Malinois, Schlenker said.
"Although handicapped, he loved to go everywhere with the family," said Schlenker, who kept Sammy after the dog's retirement from police work. "For the first few years, he was able to run, jump, climb, do it all with three legs." The children's book "Sammy, Dog Detective," by Colleen Stanley, was written about Sammy, police said. Sammy performed at hundreds of K-9 demonstrations for groups and schools. He became an iconic figure for many children, Schlenker said. When Schlenker drove down the street with Sammy, he said, kids would shout, "'There's Sammy!' — They didn't know who the heck I was, but they loved Sammy."
Remembrances can be made to
the Modesto Canine Association in Sammy's name,
704 Dorchester Ave.,
Modesto 95355.
submitted by: JimCortina, Dir. CPWDA & Gail Smith
---
In Loving Memory of
K-9 SAMSON
January 27, 2005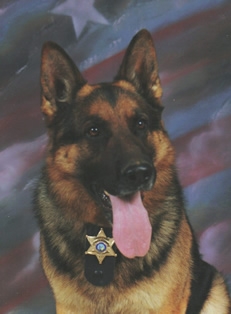 Handler: Timothy E. Wilson
Watauga County Sheriff's Office
330 Queen Street
Boone, North Carolina
828 264.3761
email: mark.shook@ncmail.net

His name is Samson — Sam for short. Sam was with the Watauga County Sheriff's Office in North Carolina for almost three years. He was owned by my husband, T. E. Wilson. They were like any other K-9 Team — inseparable! The dog was his friend, partner, and most of all to me, his protector. He lost his beloved K-9 friend Jan 27, 2005. They were working and my husband had to go in the office for some things. When he came out, another officer wanted to ride with my husband. Tim said "okay," "Let me clean out the front seat of my car, so you can get in." The officer knowing how protective Sam was, asked, "Will he bark at me?" My husband said, "Yes, you know he will!" But when Tim got in the car, he realized that the cold, wet nose and the drooling tongue weren't sitting up between the seats like usual. He looked back at Sam and saw that he was lying down and wasn't breathing. In what seemed to be the longest time in Tim's life, he drove his partner to the Vet. There he discovered nothing could be done and came to realize that Sam may have had been poisoned. What this so hard on my husband, besides losing his trusty companion is that he had the windows cracked on the patrol car — and that is something that he normally doesn't do. Sam was very healthy and an excellent drug dog. My husband and Sam had busted many, many meth labs in our area in the short time that they had worked together — plus lots of other things. Recently they were on America's Most Wanted regarding two missing children in our area. I will never be able to know the bond and love that they both had for each other. I do know that the partner he had will never be replaced and that he worked hard loving his master, protecting him and his work force with every breath he took. I know that my husband will always think of his trusty friend with every step he takes and he knows that his buddy lived a happy life doing what he loved, serving him and his community to the best of his ability. I would like to say thank you to everyone that supports their local Law Enforcement and K-9's. I think it is sad that there are so many that take for granted the protection given by such wonderful, special people and their dogs, who risk their lives everyday so that we can be safe. God Bless every one of those special people.
Lori Wilson-Vilas (800) 444-0404
---
In loving Memory of
K-9 SHADOW
May 28, 2005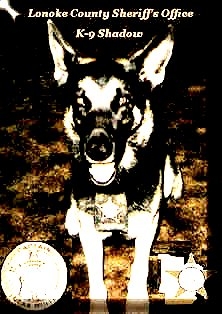 Handler: Capt. White
Lonoke County Sheriff's Office
Little Rock AR 72206

LITTLE ROCK, AR 72206 - K9 Shadow
The family of Capt. White regretfully announces the passing of a friend and faithful partner. K-9 Shadow, who was retired in August of 2002, passed away May 28, 2005 after a long struggle with Leukemia. During his 6-year career with the Lonoke County Sheriff's Office, Shadow was credited with over 100 drug finds totaling a street value of over two million dollars and numerous criminal apprehensions. One of his most memorable finds was during a traffic stop on Interstate-40 that resulted in the seizure of over two hundred thousand dollars worth of cocaine. Those that knew Shadow recall him being fearless yet loyal and feisty yet loving. Even with his loving heart, Shadow was quick to lay his life on the line in the protection of Capt. White if it was needed. This attribute was very apparent when the team tracked an armed robbery suspect through a mile and a half of swamps — the track ended in a struggle. Shadow's actions that night not only possibly saved the life of his handler, but also the suspect, who appeared to be trying to attempt suicide. The passing of Shadow is a great loss to the community of Lonoke County and he will be forever missed.
---
In Loving Memory of
K-9 STORM
January 14, 2005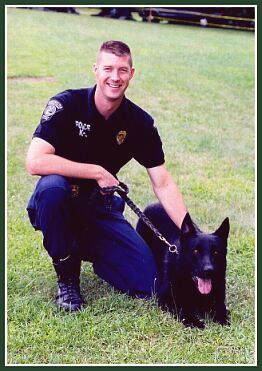 Handler: Sgt. Hank Minor
Pres. CPWDA
Manchester Police Department
239 East Middle Turnpike - P.O. Box 191
Manchester, CT 06045-0191
(860) 645-5500

Storm was tragically struck and killed by a vehicle in the early morning hours of 01/14/05. A wind storm knocked over his kennel and he ran from the yard. He was found on the side of Rt. 44 in Coventry Ct, about 300 yards from his home. K-9 Storm was four and a half years old and served as a Patrol/ Narcotics K-9 with the Manchester CT Police Department for two and a half years with his partner, Sgt. Hank Minor. He was born in Budapest Hungary. During his short career, Storm apprehended over 20 suspects and located 3 missing persons. Storm was an outstanding narcotics dog and located large amounts of drugs and currency. He was frequently requested by several local, State and Federal agencies due to a reputation for being an excellent drug and tracking dog. He served with the Capital Region Emergency Services Team on several incidents. Storm was in the process of being turned over to the Waterbury Police Department after his handlers recent promotion to Sgt. He will be missed by both the law enforcement community and his family at home. He now patrols the streets of

heaven with Sgt Minor's first K-9 partner Veko who passed away in 2003.


Manchester police dog, Storm, hit by car dies
Manchester, CT - Journal Inquirer - 1/15/05
MANCHESTER - The Police Department on Friday mourned the loss of one its most valuable workers, who worked tirelessly, even unpaid, to apprehend suspects and keep the community safe. Storm, the department's 4-year-old German shepherd, who helped officers sniff out narcotics and track suspects and missing persons, died Thursday after being hit by a car on Route 44 in Coventry, Sgt. Hank Minor said Friday. "He was a good friend, a great partner, and a fantastic patrol dog," Minor said Friday, recalling the dog he spent two years with as an officer in the Police Department's canine unit. Minor, 35, an 11-year department veteran, working as a dog handler since 1997, was promoted to sergeant on Dec. 10. As a result of his promotion, Storm was to be transfered to another department. "He was going to go anyway, but at least I knew he'd be able to still work," Minor said. "To dogs, working is fun. It's a game to them. It was all fun for him." Minor believes Thursday night's stormy weather may be to blame for the accident. He thinks the wind may have knocked over Storm's kennel in his yard, allowing Storm to get loose and take off running. When Minor woke up at 7 a.m. Friday and noticed that Storm was missing, he immediately notified Coventry police. He found Storm a short time later, lying on the side of busy Route 44. Minor has had the kennel for more than seven years, when he first switched from regular patrol duties to the canine unit. Veko, his first dog, died in February 2003. Minor said he never before had a problem with the kennel. "The department will miss this valuable member of the Manchester Police Department canine team," said Capt. Marc Montminy, the department spokesman.
submitted by Jim Cortina, Dir. CPWDA
---
In Loving Memory of
MWD K-9 SPEEDY # X-017
July 1993 - January 25, 2005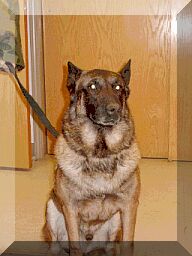 Handlers: Jon Sarabia



website
Operation Retire & Save
MWD Speedy #: X-017
Speedy is a Belgian Malinois who was born in July in 1993. He was accepted into the Air Force on the 11th of November, 1994.Speedy is a dual purpose Military Working Dog. Trained in both Narcotics detection and Patrol work. Speedy has served for not only the United States Air Force but also the United States Customs and Border Patrol. Speedy has been deployed to several border "hot spots" to help stop the illegal transport of drugs into the U.S. He has quite a recorded amount of busts under his "collar." Speedy has also patrolled the streets of Whiteman Air Force Base for many years now. You see, besides his many temporary duty assignments, Speedy has had only one home; Whiteman. But these past few years, Speedy has been slowing down. His handlers have been seeing it and now the time has come for Speedy to turn over his leash, collar, and badge to a younger pup. It's time for Speedy to retire his "beat" to the younger generation. Speedy is an old dog. He's 11 years old now. He can barely walk. It's time for the 509th Security Forces Squadron to give this old dog, who is a hero and deserves the respect of retirement as any Colonel, Major, Chief, Senior or Master deserves. He has served his country no less then any one else in uniform. Maybe he has served it more. Dogs have no say so in their duty, their lives, their treatment. They serve with no questions, no disservice, with no regret. Only with honor.January 25th 2005. Due to medical condictions, retirement is no longer an option. Speedy X-017 was euthanized today and is now playing like a puppy with his friends on the "bridge" no longer having to worry abount any pain or suffering. He will be sorely missed by all who knew him and enjoyed his company.
---
In Loving Memory of
K-9 SUSIE
May 20, 2005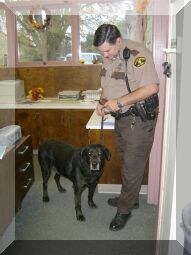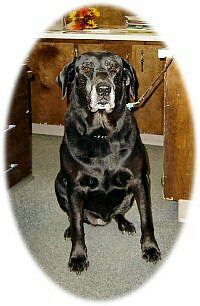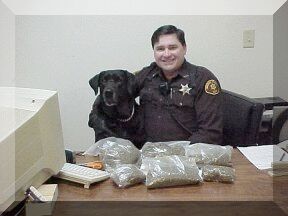 Handler: Deputy Greg Amo
Linn County Sheriff's Dept.
1115 Jackson St. S.E.
Albany, Oregon 97322

Memorial for Susie
At noon, May 20, 2005, K9 Susie, a black lab / rottweiler mix, passed away of cancer. At 13 1/2 years old, she died on active duty as a drug detection K9. The final ride to her resting place was in the back of the patrol car in which she rode every working day. She will be missed by deputies, community members, and thousands of school children. Rescued as a pup from a shelter by a K9 handler, Susie didn't begin her career as a drug detection K9 until age five. But once she began, she had a great career. Starting with the Gooding County Sheriff's Office, Susie demonstrated that she was a fantastic dog. She began with a couple of short term handlers and then spent some time with Deputy Chris Ward. With the assignment of a new K9, Susie was retired. It was then that Deputy Greg Amo asked about reassigning Susie to him. Amo was the School Resource Officer and thought that Susie would have an prevention influence on the students of his schools. He was right. In fact, one student stopped with drugs and paraphernalia in his car stated that he took it all out before he started the week of school and then put it back for the weekend because he knew Susie would find it in his car if he took it to school. The same was true for lockers and the frequency of drugs kept at school dropped. However, Susie's influence on students reached far deeper than just drug prevention. In a letter to the sheriff, an elementary principal said, "I observed Susie work her "magic" in a situation where a student was in trouble and quite angry. He would not speak to anyone and was extremely agitated. When Deputy Amo and Susie came into the room, the student calmed down quite rapidly and he was soon petting and talking to Susie. Other students have since come to the office expressly looking for Susie. She is a big hit in our building." In another incident, a middle school student with mental problems had become extremely agitated, had run from teachers and staff, and had climbed into the rafters. The rafters were exposed beams 35 feet above a concrete floor. The student would not come down and stood mumbling. When Deputy Amo and Susie arrived, the child was in danger of falling or jumping to his death. As Deputy Amo began talking to the child, he could see that the child was looking at Susie. Using that interest, Deputy Amo enticed the child out of the rafters with the idea of petting Susie. The child came down, hugged Susie 's neck and was taken to safety. Susie found many hidden drugs and narcotics, working in two states and with many agencies. She was frequently called to assist the interagency narcotics team in Albany, Oregon where she and Deputy Amo worked with the Linn County Sheriff's Office. Her final two drug busts involved drugs that had been smuggled into the jail. Two inmates had hidden drugs in their body cavities. During the search, the inmates were removed from the jail pod and Susie was brought in to search. She hit on the stainless steel seats and concrete stools where the inmates had been sitting. The corrections deputies then did a body cavity search and discovered the drugs.
Susie was a great drug detection K9, but she was best known wherever she went as a loving dog. She was happiest when being loved and petted, whether by the toughest deputy or ten of the smallest children. After nearly seven years as her handler, I can honest say, she was my friend.