In Loving Memory of
K9 SPARK
Coppertone Sparks A'Flyin'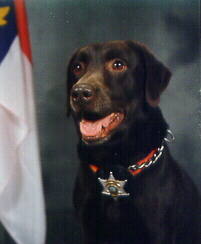 K-9 "Coppertone Sparks a Flyin'" was retrained for Narcotics, Area and Article Searching, Trailing, and placed back into service for the Burke County Sheriff's Department.

Certified through ESWDA: 1999-2004

Now Retired, resided with handler until "Spark" passed away on 12-02-2010. R.I.P.
"Until we meet again"
---
In Loving Memory of
K9 SINBAD
summer 2004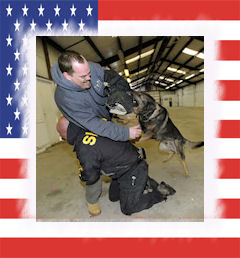 Handler: Deputy Anthony Fanella
Lake County Sheriff's Department
Sheriff Mark Curran Jr.
25 S. Martin Luther King Jr Av
Waukegan, IL 60085.
Business Hours Phone: 847.377.4000
When Lake County Sheriff's Deputy Anthony Fanella's 4-year-old K-9 partner Sinbad suffered a heat stroke while training and died in 2004, Fanella started thinking about a special memorial to honor the German shepherd. At first he didn't think there would be enough interest in the project, but his grandmother often sent him newspaper clippings about K-9 memorials in Florida and the idea stayed with him.
This year, after prodding from his sister, Traci Sikorski, and Paula and Alex Rothacker, owners of TOPS Kennel in Grayslake, he decided to establish a fund to build a memorial to Sinbad's three years of service to Lake County as well as other police dogs that have served in northern Illinois.
Fanella is president of Northern Illinois Police K-9 Memorial, a nonprofit organization set up to hold fund-raising activities, as well as maintaining a Facebook page to share photos and stories (www.facebook.com/nilpolicek-9memorial).
Plans are to place the memorial just inside the entrance at Highland Memorial Park, Route 120 and Hunt Club Road, in Warren Township. When completed, the memorial will feature a life-size granite statue of a police officer kneeling with his dog at his side. There will be 180 tiles set on the ground, each to be engraved with the names of K-9 dogs, the date they started duty and the date they died. There are also plans to build a wall for more dogs' names when the original tiles are filled. The estimated cost of the monument, the property and the first tiles is $54,482. Sikorski, secretary/treasurer of the organization, said so far about $5,100 has been raised.
"Highland Memorial Park gave us a super-reduced rate for the land," Fanella said. The area covers approximately 15 funeral plots. Fanella stressed, "It's not just my monument, it's the community's monument. It's going to take everybody's effort to make it a reality." All funds raised at the various fund-raisers will go toward the cost of the project. There will be no cost to any of the police, sheriff or fire departments.As one of the organization's fund-raisers, challenge coins will be sold. On one side of the coin is the inscription, "Remember their lives, honor their sacrifice." The opposite side reads:
"Dog handler and his dog
He is your friend, your defender, your dog
You are his life, his love, his leader
He will be yours, faith and true
To the last beat of his heart
You owe it to him to be worthy of such devotion"
The coins should be available in early April. "These K-9s are out serving every day, so what better way to give back than by honoring their memory?" said Sikorski. Area Jimano's Pizzerias hosted a fund-raiser in March which raised $630. Future fund-raisers include a "Doggy Bags' baggo tournament April 2 in Lake Villa, a golf outing and a poker run June 12, as well as the sale of T-shirts and rubber bracelets. Fanella's current K-9 partner, Thor, is another German shepherd.
"People have a false idea that these dogs are trained to be aggressive, but that's not true. When they're at home they're not working," he said. "We don't socialize our dogs. If I tell him to be aggressive, he'll be aggressive. They are very well trained. Obedience is the main thing. "There's a camaraderie between us," he added. "He's with me 24/7. He's my right hand."