In Loving Memory of


K-9 SPADE


January 11, 2003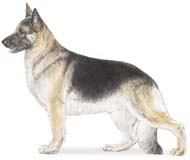 Handler: Cpt. Diane Dosal
Gallup Police Department
451 State Rd 564
Gallup, New Mexico 87301
505 863.9365 - 505 721.0086


The duo were called to the port because a Department of Transportation officer needed someone to translate Spanish. Dosal spoke to the driver for a while and thought of asking him to let Spade search the semi, more as a training exercise for Spade than anything else. "He was just not making sense," and his logs didn't match his statements, she said of the driver. The man was very cooperative and agreed to have the dog walk around the truck. Spade indicated to Dosal that he sensed drugs in the passenger side, in the sleeper area of the truck. She told the Department of Transportation officer and the driver that the dog was alerted to something in that area. She and the Department of Transportation officer began searching the sleeper compartment. They took the bed apart and found a handmade wooden box placed inside the box spring. Inside the box were 20 bricks of a drug they thought was probably methamphetamine. The officers were excited — that was probably about $3 million in street value.
But that wasn't all.

Dosal and the other officer took the bricks out of the box and found 20 more bricks underneath with more bricks underneath those. "We just started taking them out," Dosal said. They learned later it was $12 million street value in a mixture of methamphetamines and cocaine. "It was a good hidden compartment. It looked like it was part of the bed," Dosal said. Spade came already trained from Germany and all of his commands were in German, she said. Dosal had to spend three 50-hour weeks training with Spade to learn the commands and to get Spade familiar with her. After they began working the streets together, she and Spade went on drug searches at the high school and on building searches for the police department. He was considered a multi-purpose dog, used for patrol and narcotics. "He was a talented dog. He could do anything," Dosal said.
In most of their training, Spade was the largest dog and Dosal was the smallest officer. "He looked intimidating but he was probably the nicest dog you'd ever meet. He was calm," Dosal said. She said she met only one other female officer working as a canine handler during her various training sessions in the country. The other female officer worked at a department in Colorado.
Dosal first became a canine officer after her brother, Gallup Police Sgt. Gabe Cebada, began running the program for the department. Cebada recently returned back to duty after his police dog, Bosco, attacked him while they trained July 1. Cebada had to have several surgeries to his hand and almost lost a finger. Bosco is now working with another department. Cebada is working with a new patrol dog named Rocky. Other Gallup Police canine officers include Cpl. Andy Yearley, who works with K-9 Officer Tater, and Officer Donald Howard and his patrol dog, Ufo. Each of the officers had to pay for their own dogs, although the department paid for the training. Dosal paid $3,500 for Spade.
Sometimes people remark that it seems cruel to work the dogs, but Dosal has found that the canines get "upset and restless" if they aren't training or being worked constantly. While K-9 officer handlers get attached to the animals, they are trained to understand one of the sad purposes for the police dogs, that their main purpose is to take the bullet for their partner, if need be. "If it's a situation where it's you or your dog, you send in the dog," Dosal said. Police dogs are on diets and can't gain more than a set amount of weight. Because of all the training, they are usually very muscular dogs, as was Spade. A website for deceased police dogs on the internet provides cards with information about the dog, similar to cards distributed at funerals. The information Dosal provided about Spade will remain on their website for a long time. Dosal expressed appreciation for Cedar Animal clinic for their caring, especially Dr. Jessica Balok, who also became attached to Spade. Not even an hour after Spade died, the clinic sent Dosal flowers. "I'll never forget that," Dosal said
All information on this page submitted by Jim Cortina., Dir. CPWDA
---
In Loving Memory of
K-9 SAMPSON
December 11, 2003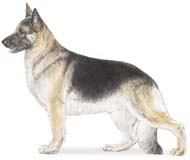 Handler: Officer Lenny Frazier
Anna Arundel County Police Department
8495 Vegterans Hgwy.
Millersville, MD 21108

K9 Sampson and his partner Officer Lenny Frazier, Anne Arundel County Police Dept. Maryland, began working together in February 1999. Sampson was a Patrol/Narcotics Police K9. Sampson was diagnosed with a very aggressive and fast growing cancer about two weeks prior to his death. He was euthanized on December 11, 2003.
In Loving Memory of
K-9 SEAGRAVE SAR
May 11, 1997 - Sept. 7, 2003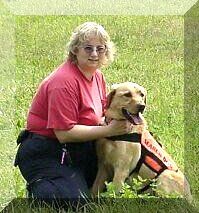 Handler: Irene Harris
Newark, DE
East Coast K-9 Search & Rescue, Inc
Born a beautiful yellow lab on May 11,1997, Seagrave was owned, trained and handled by Irene Harris of Newark, Delaware. Over the years he became a valued and critical component of East Coast K-9 Search and Rescue, Inc. The team of Seagrave and Irene could always be counted on to respond to calls for assistance from many different agencies throughout Maryland and Delaware. Seagrave's incredible drive and desire to work will be severely missed by everyone at East Coast K-9. We were fortunate to be able to see him at a training on September 6th. Everyone said goodbye to Seagrave and watched him work a short problem perfectly, for one last time. A memorial plaque will be placed in the new trailer to honor both his achievements and his memory. Thank you, Irene, for sharing him with us. We know all dogs are special but there is nothing like your first working dog. Rest easy, Seagrave.
submitted byennifer Angelini, 125 Fey Rd., Chestertown, MD 21620
---
In Memory of
K-9 SANTO
September 20, 2003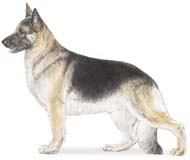 Handlers: Deputy J.H. (Spider) Littleton
& Deputy Craig Mize
The Anderson County Sheriff's Office
305 Camson Rd.
Anderson, SC 29623

Main Number: (864)260-4400
It is with deep sorrow that I am sending this. The Anderson County Sheriff's Office has lost another friend. K-9 Santo (a German Shepard) had to be put down on 09-20-2003 due to lingering injuries. Several years ago he tried to climb out of his pen and the top on it hit him in the back causing back injuries. This did not stop Santo and he continued to have a distinguished career with us. He was first handled by J.H. (Spider) Littleton and then by Craig Mize. Santo will be missed.
"Well done thy good and faithful friend" submitted by: Master Deputy Don Hodges Jr.
---
In Loving Memory of
K-9 SONJA
Oct. 26, 1990 - Sept. 8, 2003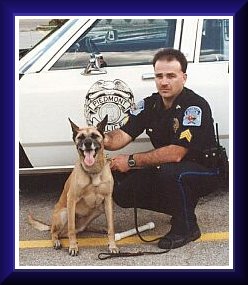 Handler: Sgt. David L. Kirk
Piedmont Police Department
116 West Ladiga Street
Piedmont, AL
36272
(256) 447-9091
Sonja was born on October 26,1990,she started out with the Calhoun County Sheriff's Office South in 1991. Sonja was donated by Sheriff Larry Amerson in 1995 after her handler left. She started with the Piedmont Police Department in 1995 until she was retired in 2001. Sonja did many drug searches at local and county schools during her tour of duty. On one trip to the local school, she made a find in the boy's restroom, a bag of marijuana in the ceiling. she started having trouble with her joints and was in very much pain, and she retired in October 2001. Sonja enjoyed working everyday, but when the time come to take it easy she still showed a lot of spunk and the will to still serve. It was so hard to leave her at home every night knowing that she wouldn't be by my side. On September 7, 2003, I came home from work and found that she had a stoke and was real weak and couldn't stand on her own. I knew I would have to say farewell to my long time friend and partner. The next day, September 8, 2003 I made that drive to the vet's office to say my last goodbye. I held her in my arms till the end. We both found peace that day, knowing that she wouldn't hurt anymore. I will miss my friend, but she won't be forgotten

I LOVE YOU SONJA!!!!!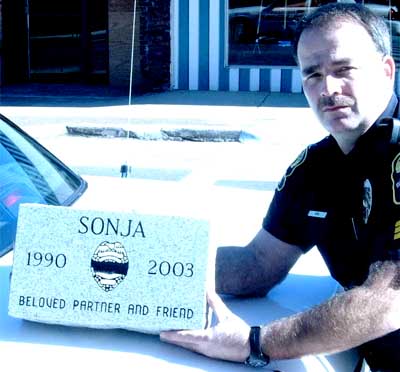 The department bought her a grave marker.


Update:


I gave up being a K-9 handler after 10 years. Max, GSD was my first dog and Sonja my second I am now Shift Supervisor. I'm thankful for the work you do for the k9 units and keep up the good work .
---
In Loving Memory of
K-9 SONJA
July 10, 1989 - July 6, 2003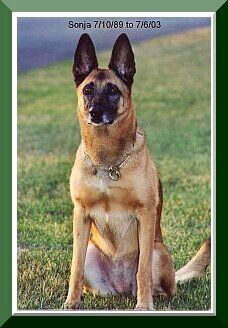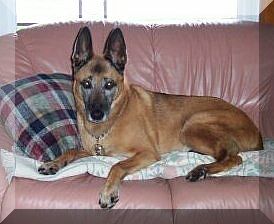 Photos of K9s @ WTC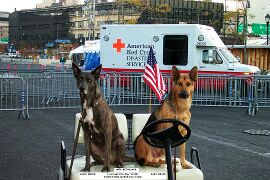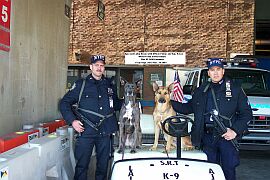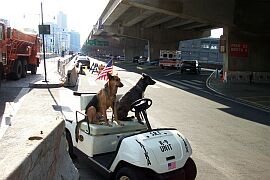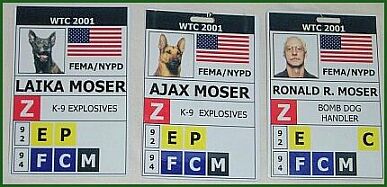 Handler: Ron Moser
Housing Authority of Louisville, Louisville Police Department, the Metro Narcotics Unit, the DEA, FBI,
Indiana Drug Task Force, Kentucky State Police, Texas Narcotics Task Force and the US Postal Service,
Jefferson County Public Schools Police Department.
I think about Sonja every day. We have 5 other working dogs, but Sonja is the Queen. I have a GSD named Ajax who loved Sonja also. He was at Ground Zero in NYC. You would love him to. When Sonja passed away we were working for the Jefferson County Public Schools Police Dept. She was searching all high and middle schools for drugs and guns.
Male High school dedicated a tree in her name.


1. On

September 28, 01

about 10:30 PM I received a call at home requesting our assistance at the Ground Zero area with my bomb dogs. With out hesitation, I said yes.

The morning of

September 30

my bomb dog, Ajax, and I boarded a plane at Louisville International Airport. When the Captain found out we were going to New York City, he moved us up to first class. Ajax sat beside me without a crate. When we arrived at LaGuardia Airport we were taken to Pier 94 near Ground Zero where I received my assignment. Upon arrival at the Office of Emergency Management (OEM), I was told a bomb threat had been made by a group planning to ship explosive devices to the Red Cross, Office of Emergency Management (OEM ), FEMA, Ground Zero and the Victims' Family Center. Our job was to search all food deliveries and equipment to the Red Cross and all packages, mail, vehicles and equipment going to Ground Zero, FEMA and OEM. This covered piers 90, 91, 92, and 94. We also searched and cleared the area and the ferryboats at Pier 92 whenever the victims' families, dignitaries, and the top government officials arrived to board the ferryboat going to the World Trade Center site.



Sept. 30 – Oct. 13

Ajax and I were the only bomb dog team in the area. We worked 16 hour shifts the first two weeks.
October 13 Ajax and I flew home to Louisville, KY to pick up Laika, also a bomb dog. Although my dogs are conditioned for very long searches, Ajax needed some help. I drove back to New York City with two dogs Ajax & Laika. We searched in 16 hour shifts, seven days a week.

My detail ended on

November 30

and we returned home. I will never forget this experience.

2. Both Ajax and Laika worked unceasingly, because of their dedication and loyalty to me. They never lost their friendly disposition, no matter how many hours I required them to search. Their efforts at Ground Zero provided the people they came in contact with a great measure of security. The picture I submitted for this award and their FEMA I.D. tags are being displayed in the New York Historical Society Museum.
**********************
Sonja was a Belgian Malinois born in Belgium in July 10, 1989. She had obedience and police training in Holland and completed her drug detection training at Global Training Academy in Somerset, Texas.
In February 1991 I was a Narcotics Special Investigator with the Housing Authority of Louisville. When it was decided our unit would purchase a drug detection dog, I volunteered to be the canine handler. I was sent to Global Training Academy, where I was matched up with K-9 Sonja. According to the former director of HUD, Jack Kempf, Sonja was the first narcotics detection dog for a Housing Authority in the U. S. She was introduced to the Housing Authority employees by Mayor Jerry Abramson, where it was written in the paper Sonja gave him her sniff of approval. She was used when search warrants were served, for authorized searches, traffic stops with probable cause, and chases while someone tried to throw away the evidence while running or driving away. We worked 8 hour shifts and were on call 24 hours a day. In addition, we worked with the city's police department, the Metro Narcotics Unit, the DEA, FBI, Indiana Drug Task Force, Kentucky State Police, Texas Narcotics Task Force and the US Postal Service. I received many commendation letters from these agencies praising her amazing abilities. Sonja was feared by dopers. She located $38,700,000 in drugs, $9,000,000 in money and seized property and put 1500 people in jail. Her largest hit was 127 kilos of cocaine and 2,000 lbs. of marijuana in two trucks in San Antonio, TX.
Sonja was the first narcotics dog to search community corrections facilities in Louisville.
In 1994 I purchased Sonja from the Housing Authority of Louisville for $5,500.00. She and I began drug sweeps of the Jefferson County Public Schools. During her career, she searched over a million lockers and thousands of cars. She was highly social and made many friends in the schools. She was always willing to go to work. Her gentle loving nature and accuracy in detecting drugs made her many fans. She was highly respected in State and Federal courts and was never challenged. In 1996 the U. S. Attorneys' Office for the Western District and the US Postal Inspectors nominated Sonja for an Award of Honor by the International Narcotics Enforcement Officers' Association. She was chosen for the award. On June 7, 2003 Sonja had a stroke. On July 6, 2003 she passed away in her sleep, just 4 days from her 14th birthday. I miss her waking me up when my cell phone rings, ready to get into the truck. Sonja was one in a trillion. She will live in our hearts forever.
Ron Moser
---
In Loving Memory of
K-9 SKY
A.K.A; "SkyWalker"
July 7, 1994 - January 29, 2003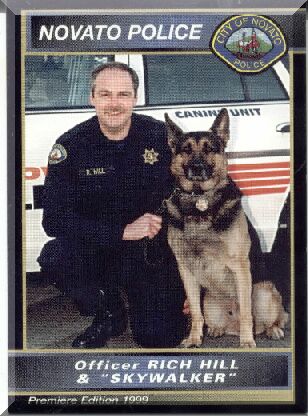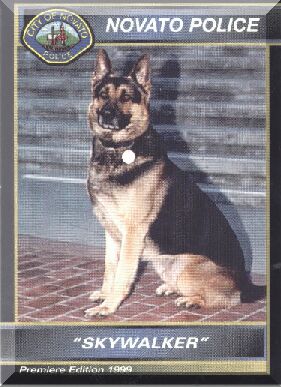 Handler: Rich Hill
Novato Police Department
909 Machin Avenue
Novato, CA 94945
Phone - (415) 897-4361
Novato Police Dept. email

Marin Humane Society California visit www.MarinHumaneSociety.org Carol Williams-Skaggs
The Marin Humane Society's K9 Care Fund offsets expenses incurred by police and search and rescue dogs. Through the K9 Care Fund, public service dogs are eligible for free veterinary care, grooming, safety equipment and boarding at the Marin Humane Society shelter. Police and SAR dogs put their lives on the line very day. High vet care and kenneling costs can sometimes place a burden on police and fire department budgets and the K9 Care Fund is designed to ease the burden. For more information, please call 415 883.4621 X 270
In Loving Memory of
K-9 SULTAN
March 7, 2003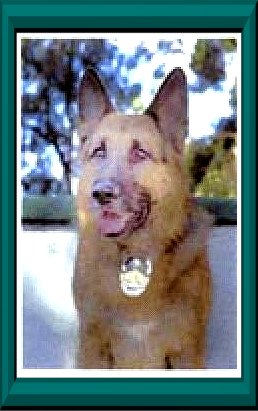 Handler: Officer Jimmy Fogata
Santa Paula Police Department
214 South 10th St.
Santa Paula, CA 93060
805.525.4474

The Santa Paula Police Departments forth K-9 handler was Senior Officer James A. Fogata. This K-9 was purchased through community donations and a fund raiser by the BLIT Organization (Better Living In Time). After the community heard the department did not have the funds to purchase a replacement K-9, BLIT organized a fundraiser to purchase a K-9. Senior Officer Fogata and his K-9 Sultan, began K-9 training in July of 1996 with Dave and Debbie Inglis (Dave is at this time, a Lieutenant with the Ventura Police Department and former Ventura Police K-9 handler). Sultan, a German Shepherd was from Germany. Sultan was initially trained as a patrol K-9 with duties identical to former K-9's. Sultan has the distinction of being the departments first cross trained K-9. Sultan was crossed trained as a drug detection dog, capable of identifying several kinds of controlled substances and marijuana. During the course of his duties, Sultan was utilized on a possible drug smuggler who landed at the Santa Paula Airport and detained by SPPD Officers, DEA, INS and IRS. Sultan's ability to indicate on drugs led to the probable cause to search the twin engine Cessna and its contents of 282 kilos of cocaine. The subsequent arrest and prosecution of the smuggler led to the asset seizure of his plane, and expensive home in Montecito, California. The subsequent sale of his property caused almost $90,000 to be awarded to the Santa Paula Police Department by the federal government, strictly for use in drug interdiction. This money was later used by the department to purchase the 6th and 7th police K-9's. Senior Officer Fogata and Sultan worked together for a little over 6 years and Sultan began to suffer from lower back problems and was retired from service in July of 2002.
K9 Sultan: SPPD canine dies after long and distinguished career By Peggy Kelly - Santa Paula Times
A highly respected member of the Santa Paula Police Department passed away Friday, and partner Sr. Officer Jimmy Fogata and friends of K-9 Sultan reflected on his unique personality and devotion to duty. Sultan had "been in declining health from long-term stress injuries he suffered during his long and distinguished career," said SPPD Comdr.. Mark Trimble. "Sultan was considered a very fine police dog and they were outstanding ambassadors to the community." "Sultan was a fine dog, a good friend and probably the best partner I ever had," said Fogata. Sultan joined the SPPD in June 1996 and was retired Aug. 1, 2002. His back injury had worsened until he became crippled in his final days and the decision reached to put him down.
On Friday, SPPD officers who wanted to say good-bye visited Sultan; others from the Ventura County K9 Training Group were present at the vets when Sultan was put to sleep. Sultan rode in a police car to his final destination, proudly wearing his badge. K9s are "awesome, the best tools in law enforcement and Sunny Schmidt and BLIT did a lot of fundraising to buy him for the community." Sultan became an "instant celebrity" in 1997 when he was part of the major drug bust at the Santa Paula Airport, where federal agents forced a cocaine smuggler running out of fuel to land. Sultan was oversized for a K9, about 95 pounds. "I would carry him around on my shoulders, we flew in helicopters together, swam together," the latter not a favorite of the dog, during the average of 40 hours of monthly K9 training, said Fogata. "The funniest thing about Sultan was that he really liked women and kids; you could put him in the middle of preschoolers and he'd roll on his back and want his belly scratched. Sultan had a real unique personality. He really liked people except the bad guys." And people loved Sultan: they would call out his name during parades and stage birthday parties for him at Las Piedras Park where his treat would be a Big Mac. Sultan also had dual personalities, a "beast" inside the patrol car and a "gentle giant" once outside. His gentle giant side led to shaking hands with all the kids, playing dead when Fogata would point his finger and say "Bang!" and hanging out at Cruise Nites. Sultan didn't accept retirement easily: "I'd hear him whining behind the front door when I left for work; the dogs are so driven to work it was a hard thing to deal with." But then the lazy days of retirement kicked in and Sultan could often be found "laying by the pool and getting spoiled; that was his whole thing, that and being able to sleep in the house at night." The inner-puppy in Sultan surfaced when Evan became Fogata's K9 partner. Initially, "He ignored Evan, considered him a rookie," not worthy of respect. Sultan's buddy was the family's dog Murphy, who he palled around with and enjoyed vacationing with the humans. "Jimmy and Sultan both displayed to our citizens the best the SPPD has to offer in many ways," noted Cmdr. Trimble. "It was an honor serving with Sultan and he was family," said Fogata. "He's being cremated and will be back with me. . ."
notified by Jim Cortina, CPWDA Dir.
---
In Loving Memory of
K-9 SANDOR
July 15, 2003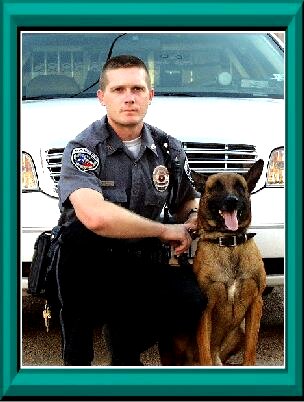 Handler: Officer Rodney Stevens
Muleshoe Police Department
Chief of Police Don Carter
215 E Ave B
Muleshoe, Texas 79347
((806)272-4569

Police dog dies in hot car By GREG CUNNINGHAM - gcunningham@amarillonet.com Amarillo Globe News
MULESHOE - Muleshoe officials are determined to secure a replacement for the city's police dog that died last week of heat exhaustion, despite a price tag that could total several thousand dollars. Police Chief Don L. Carter said Monday that he wants to find a replacement for Sandor, a Belgian Malinois that died July 15 when a patrol car's air conditioning failed on a 100-degree day. "Our intentions are to replace it," Carter said. "We are looking at a couple of different options." Carter said the best-case scenario would involve a payment from the city's insurance carrier to buy a new dog, which would save the city approximately $8,500. The city did not have an insurance policy on the dog specifically, but Sandor was property of the city, so the replacement may be covered. Even if insurance doesn't cover it, Carter is committed to finding money to replace a valuable member of the department. "We acquired the dog about 2 1/2 years ago, and I think a lot of people became believers," Carter said. "The dog proved its worth." Carter said Sandor's death was apparently caused by a shutdown in the air conditioning on the Ford Crown Victoria patrol car. Sandor's handler, Rodney Stevens, left the dog in the car for about half an hour July 15 to go into the police department and do some paperwork. Police working dogs aren't suited to an office environment, so department procedures called for leaving the dog in the car with the engine on and air conditioner running. About half an hour after going inside, Stevens went out and found the dog dead and the air conditioner blowing nothing but hot air. "It could make people think twice about leaving children or pets in a hot car." Police Chief Don L. Carter
The local Ford dealership determined that the air conditioner compressor kicked off because the engine got too hot - a safety feature of which Carter said no one was aware. "This was an unfortunate accident," Carter said. "I guess if anything positive comes out of it, it could make people think twice about leaving children or pets in a hot car. We're talking about 30 minutes here, and that's all it took." A check with several other law enforcement departments revealed that Muleshoe's policy of leaving the dog in the car is standard. Jim Watson, national secretary and accredited master trainer with the North American Police Work Dog Association, said police dogs occasionally die from too much heat, despite police departments' best intentions. "One must remember, you're dealing with a machine, a police car," Watson said. "All machines at one point or another fail. If it was an equipment failure, then accidents do happen." Watson said he had never heard of the air conditioning kicking off on a running Ford Crown Victoria - a model that makes up a large part of the police fleet in many cities nationwide - but he hears reports of dogs dying in cars due to other factors. James Smithson, service manger at John Chandler Ford in Amarillo, said today's computer-driven cars will shut down the air conditioning under the right circumstances, including when an engine gets too hot. "There's several things anymore that will turn the air conditioning off," Smithson said. "If the computer senses the engine is getting so hot it's going to seize up, it's going to shut the compressor down to take some of the load off. It's all up to the computer anymore."
Carter said now that he knows the loss of air conditioning is a possibility, even in a running car, the city will install a temperature monitoring device to protect the next dog. The devices recently have come down in cost to about $800.
"I think it's clear that the dog is a valued member of this department," Carter said. "We'll do what we have to, to find another one and keep it around." also notified by Kelly George & many others



Personal note: this is the second Ford Crown Victoria patrol car that had this problem. K9 Hondo, Kansas City, MO P.D.
In Loving Memory of
K-9 SASCHA
2003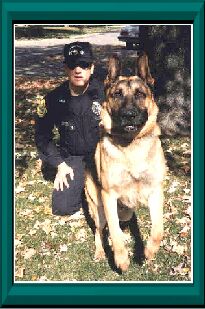 Partner/Handler:
Muncie Police K9 Unit
1201 North Broadway Avenue
Muncie, IN 47303