In Loving Memory of
K-9 OTTO
May 3, 2001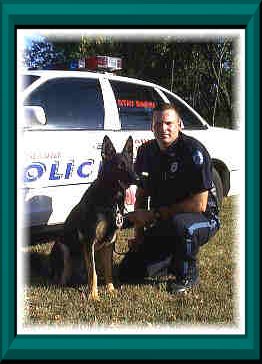 "A piece of me died." quoted by Jessey

Partner: Officer Jessey Hiebert
Hillsboro Police Department

102 S. Main St. P.O. Box "N"
Hillsboro, KS 67063
620.947.3440
2 Separate articles from Hillsboro Newspapers - Police department mourns loss of K-9 drug officer
By: Brenda Conyers May 09, 2001
ph: Free Press 620.947.5702 Aileen.Ratzlaff ..
Officer Jessey Hiebert with Otto in 1998, soon after the dog joined the department. Otto died Thursday at home.
After initial suspicion of foul play, a K-State autopsy confirms that Otto died of natural causes. Otto, the
Hillsboro K9 officer, died Thursday of natural causes at his home. "It is not only a loss to the department
but to the community as well," said Hillsboro Police Chief Dan Kinning. Otto, a German Shepherd dog, joined the
Hillsboro police department in October 1997. He immediately began obedience and drug recognition training
in Wichita with trainer Brad Agnew. He graduated from training school April 1998. Law enforcement
officers Otto and Jessey Hiebert also underwent training together so Hiebert could learn how to properly
groom and handle the dog. All of Otto's commands were given in German. According to Kinning, after
Otto was found dead, the event was reported to the Marion County Sheriff's Department and investigated
for possible foul play. "There are Kansas statutes relating to Otto," Kinning said. "(The dog's death)
was investigated as if it were the death of an officer. The dog was taken to Kansas State University
for testing, and results came back, stating that the dog died of gastric torsion, commonly known as
a "twisted gut." "He was our most popular officer," Kinning said. "He visited every school in the county.
He will be missed." Kinning also said Otto not only worked in drug detection, but he also was an
invaluable public relations tool. A memorial service for the police dog will be held Friday, May 11, at
Hillsboro Memorial Park, with pastor John Ryding speaking at the service. Chief Kinning said he had
been contacted by the Wichita Police Department regarding the service. The WPD had wanted to
bring the bagpipes to Hillsboro, but they had a prior obligation. Kinning said he was later
contacted by the Kansas City Police Department. If possible, the department will bring bagpipes
to the service Friday. Marion County Sheriff Lee Becker also expressed his regrets at the loss of
the drug dog. The K9-drug work, however, will not end with Otto's death. Kinning said a fund has
already been started for the purchase of a new dog as a memorial to Otto. Becker said the
Sheriff's Department would donate $500 from the drug-dog fund toward the purchase of
a new drug dog. Anyone wanting to make a donation to Otto's Memorial Fund may do so at the Emprise State
Bank in Hillsboro.
THE FINAL CALL By: Don Ratzlaff - March 11, 2001
Area law enforcement respond to the loss of a canine comrade. Arriving in a procession of almost 20 vehicles, about
two dozen law enforcement personnel and 35 civilians bid farewell Friday to Otto, the Hillsboro Police
Department's K-9 drug dog that died of natural causes May 3. Law enforcement officers from at least
seven communities and McConnell Air Force Base including five of the K-9 variety gathered on the east side of the Scout
House in Memorial Park at 11 a.m. for a solemn tribute to the popular canine. Hillsboro Police Chief Dan Kinning said
he wasn't surprised by the strong turnout. In fact, it could easily have been much larger. "We had gotten a
lot of condolences," Kinning said. "A lot of departments sent us teletypes saying they wanted to be there,
but it was May Day and All School's Day in McPherson. Plus it was the kick off for the River Festival in Wichita,
so the highway patrol and a lot of departments were tied up. The service included brief comments from
Officer Jessey Hiebert, Otto's handler, plus written messages of condolences from Attorney General Carla Stovall
and U.S. Rep. Jerry Moran, and a brief meditation from John Ryding, HPD chaplain and pastor of the Zion
Lutheran Church in Hillsboro. Ryding noted the unusual nature of the gathering-a first for him in 24 years
of ministry. He said Otto was "faithful and dependable, and will be missed by all." Two memorial plaques
were presented to the department, one from Kansas Specialized Dogs, the organization that trained Otto for
duty, and one from the Peace Officers Association. The service ended with a "final call" for Otto radioed via
the PA system in HPD's K-9 unit vehicle. It noted the dog's three years of service and called for Otto to
"rest in peace." Ryding followed the final call with "Taps." As they dispersed, more than a few of the law
enforcement officers wiped tears from their eyes. Several comrades and guests shared words of condolence
to Hiebert afterward, some with a handshake, others with an embrace. Kinning said his department had
originally planned on marking Otto's passing with "a little prayer" and by presenting a memorial plaque to Hiebert.
"It kind of took on a life of its own," he said. The event received media attention far beyond Hillsboro.
KAKE-TV 10 was on hand to cover the memorial program. Earlier in the week, the Wichita Eagle had carried
an article about the emotion surrounding Otto's death. Kinning said he also had been interviewed by a reporter
from the Kansas City Star. Reportedly, the story had gone out over national news. "I wasn't expecting that
much media attention," he said. "I know the Eagle had been looking for a small-town story and this sort of
fit the bill for them." Kinning is aware that not everyone in the community understood or appreciated the
groundswell of attention Otto's death generated. "It was more than just a dog," Kinning said. "It was a
police officer, by law. Also, it was a member of the community. Everybody knew the dog, especially the
children. I think if school hadn't been in session, we probably would have had a good turnout of children."
He said the gathering was never intended to be a "funeral." "It was a memorial for the officers and whoever
in the community wanted to say good-bye," he said. A fund has been established at Emprise Bank in Hillsboro
to receive contributions for acquiring a new K-9 officer for the department. Kinning said Otto's trainer
has already offered to donate a replacement dog. Such dogs normally cost between $5,000 and $10,000.
If this particular dog is selected, Kinning said about $3,500 still will be needed to train it for duty.
About $1,400 had been donated by Mon. afternoon. If the money can be raised, Kinning thinks the
local K-9 unit could be back in service in as little as three months. Otto's remains were cremated
and the ashes likely will be placed in Hiebert's custody, Kinning said.

OTTO's FINAL CALL- Service May 11, 2001
Hillsboro Press
Jeff Arriving in a procession of almost 20 vehicles, about two dozen law enforcement personnel and 35 civilians
bid farewell Friday to Otto, the Hillsboro Police Department's K-9 drug dog that died of natural causes May 3.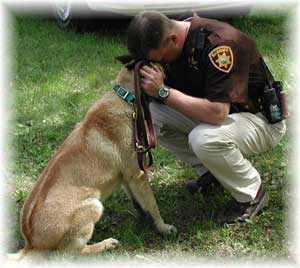 Jeff Soyez, Marion County deputy, turns to his canine partner, Jag, for comfort during the "final call" for Otto.