In Loving Memory of
K-9 SAM
December 2000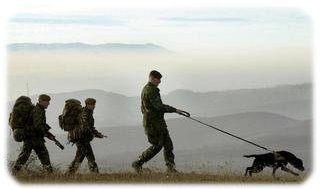 Handler Sgt. Ian Carnegie
Royal Army Veterinary Corps Dog Unit
British Army in Bosnia-Herzegovina

The RAVC is a technical support Corps, small but competent. Deeply involved in all aspects of military animal activity and related matters but with little opportunity for high profile publicity. Few watching the ceremonial duties of the Household Cavalry or The King's Troop RHA are aware of the RAVC's involvement in the procurement and veterinary management of their much admired horses. The discovery of terrorist arms and explosives caches are attributed to the security force and not the dogs, procured, trained and serviced by the Corps. RAVC personnel enjoy a challenging and varied employment role involved in all aspects of the use of animals for military purposes, from their procurement, through their initial assessment and training, the maintenance of their health and fitness throughout their service life, to their retirement from the service. The RAVC provides the service lead in the development of good husbandry and training practice, preventative medicine and care in the maintenance of service animals. Corps personnel advise commanders on the best utilization of Service animal resources and the development of good practice to ensure that they are used to their fullest potential.
Click on Dick in Medal to learn more.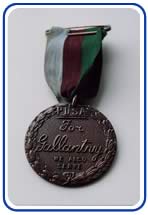 Army dog Sam wins a posthumous 'VC'
By Graham Tibbetts Daily Telegraph UK (Filed: 20/12/2002)



An alsatian that disarmed a gunman and held rioters at bay in separate incidents while serving with the British Army in Bosnia-Herzegovina is to be posthumously awarded the animal equivalent of the Victoria Cross. The courage of Sam will be recognized when its handler, Sgt. Ian Carnegie, is presented with the Dickin Medal on its behalf at a ceremony next month. Sam, who died of natural causes, aged 10, two years ago, helped Sgt. Carnegie to defuse two flash points in 1998 while serving with the Royal Army Veterinary Corps Dog Unit. In the first, a volley of shots rang out as the 1st Battalion The Royal Canadian Regiment patrolled Drvar. Troops saw a gunman run into a bar. In the medal citation, Sgt. Carnegie said, "After a chase, Sam brought down the suspect and I disarmed him, retrieving a loaded pistol." Six days later, again in Drvar, a mob was besieging a compound where Serbs were taking refuge. Sgt. Carnegie said, "By threatening the mob with our pistols and dogs, we forced our way into the compound. We kept the rioters at bay until reinforcements arrived."
---
In Loving Memory of
K-9 SAMMY
1997 - 2000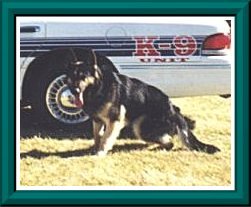 Handler: Officer Keith McDonald
Charlestown Police Department
701 Main Street
Charlestown, IN 47111 PH:812.256.6345
Sammy was a 3 1/2 year old German Shepherd, imported from Germany and certified in Narcotics and Utility Patrol Work. Sammy was responsible and assisted in many drug and search arrests; as well as many public community policing engagements. Sammy's life was suddenly ended when he was accidentally struck by a moving vehicle along a State Highway, while on-duty Christmas Eve night. The Charlestown Police Department is proud of Sammy's accomplishments and loyalty to law enforcement, and dedicate this page to his memory. Thanks Sammy.
Service: January 1998 - December 2000
---
In Loving Memory of
K-9 Shierkhan
September 1, 2000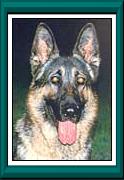 Handler: Officer Mike Lewis
Seattle Police Dept K-9 Unit
206 684.7472 Sgt. office and leave message...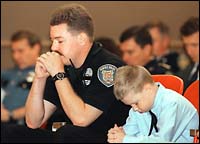 Mike Lewis with son, with tears during memorial service for Shierkhan.
The police mourn a fallen K-9 officer Friday, September 1, 2000 By VANESSA HO SEATTLE POST-INTELLIGENCER REPORTER
In his short but impressive career, he was known as the officer who thought nothing of crawling through brambles for evidence.
He was the one who eagerly chased armed suspects into scary buildings, while his partner lingered behind. Over the years, he racked up 83 arrests and handled 1,700 calls for service.But his favorite thing to do was making a mad dash for the cookies behind the clerk's desk. Seattle police Officer Mike Lewis reacts to comments at a memorial service for his fallen partner, police dog Shierkhan. Lewis' 7-year-old son, TJ, sits next to him. Gilbert W. Arias/P-I Yesterday, Shierkhan, a Seattle police dog, was honored by more than 200 officers from Vancouver, B.C., to Longview at a memorial service. A 4 year-old German shepherd, Shierkhan was killed last week while tracking a pair of carjackers. He was hit by a car. At the service, officers wept. An honor guard saluted him. His K-9 brethren, including Talon and Radar, stood at attention. "An unbelievable bond formed between Shierkhan and I. His love was unconditional," said partner Mike Lewis, his voice cracking. "I miss you goofball, and I'll see you in heaven someday." Lewis took Shierkhan home every night, and he recalled how his partner would whine and pace with excitement when it was time to go to work. "He would say, 'Hey, I don't want to take a night off. I want to chase bad guys. And catch them he did."Officers and friends lauded the role of police dogs as "noble, loyal public servants." Atttorney Ted Buck, who often represents Seattle officers, said the dogs serve not for money but "for kibble, for a belly scratch, for an atta boy." "We live in an age where we are witnessing the demise of the common hero," he said. "Isn't it ironic that in a dog's life, in a police dog's life, we find perhaps the most glorious exception to (that) demise." Shierkhan, whose first big arrest was of a fast-food restaurant robber, was also heralded as one of the department's "finest ambassadors" in schools, community fairs and nursing homes. "We're all going to miss Shierkhan, but the citizens of Seattle will miss Shierkhan the most," police Officer Bruce Wind said. "Because bad guys are going to get away because Shierkhan is no longer here."
*************
A police dog remembered by Anne Koch Seattle Times staff reporter
A Seattle police dog that befriended countless elementary school children and caught 83 bad guys before he was killed on the job last week was remembered yesterday during an unusual and touching memorial service. More than 200 police officers and others turned out at the auditorium of the former Sand Point naval base to honor 4-year-old German shepherd Shierkhan and pay tribute to the Police Department's close-knit K-9 unit, including Shierkhan's handler and partner, Officer Mike Lewis. Some K-9 officers came from police agencies as far away as British Columbia. The 45-minute service included songs, prayers, a video presentation, an appearance by the department's honor guard and remarks from Seattle's new police chief, Gil Kerlikowske. "To some of you, it may seem a bit strange: a memorial for a dog," said Officer Bruce Wind, a former K-9 officer who addressed the audience. "But why are we really here? ... We are here to show support for Officer Mike Lewis. We are here because ... cops stick together. We are family, and one of our own is having a tough time right now." Yesterday's service also was an opportunity to reflect on what many outside the department don't realize: how crucial police dogs are to officers - what a vital role they play in police work. "The ability of a police dog to track something that the rest of us can't even see is amazing," Wind said. "We're all going to miss Shierkhan, but the citizens of Seattle are going to miss him the most. There will be a lot of bad guys who are going to get away because Shierkhan is no longer here." Sgt. Carol Minakami, who heads the department's 14-member K-9 unit, said Shierkhan possessed the self-confidence and balance that good police dogs must have. The animals must be gentle and relaxed enough to give demonstrations to schoolchildren but aggressive, sharp and fast enough to catch criminals. "You can look at 100 dogs and (only) get one good police dog," she said. Shierkhan, who had served with the department since January 1998, died last Friday night after he was hit by a car on Interstate 5 while tracking a suspect in a robbery and carjacking. The dog's death was only the second dog fatality in the roughly 30-year history of the department's K-9 unit. Shierkhan's death has deeply affected Lewis and every other K-9 officer. "It's one of the things that we all dread," said Officer J. Moyer. "We're closer to our dogs than we are to most people. You end up sharing dangers together. You're working even more closely as a team than with a human (police) partner. The dog leads you. He's an extension of your senses. You're using those things so both of you can go home at the end of the night." Like the department's other police dogs, Shierkhan lived with his handler, Lewis, who is married and has three young sons. Yesterday, Lewis told the audience how grateful he was to have worked with "the best partner - the best friend that anyone could ever have." "I miss you," Lewis said. "I'll see you in heaven, someday."
+++++++++
Sgt. Carol Minakami of the Seattle K9 Unit
called me after the memorial service. Over 250 people attended the sad ceremony. There were K9's & officers from many other states plus Canada, and civilians. Thank you Carol, your phone call meant so much to me. I hope the service helps heal Mike, his wife and family of 3 young children. We care!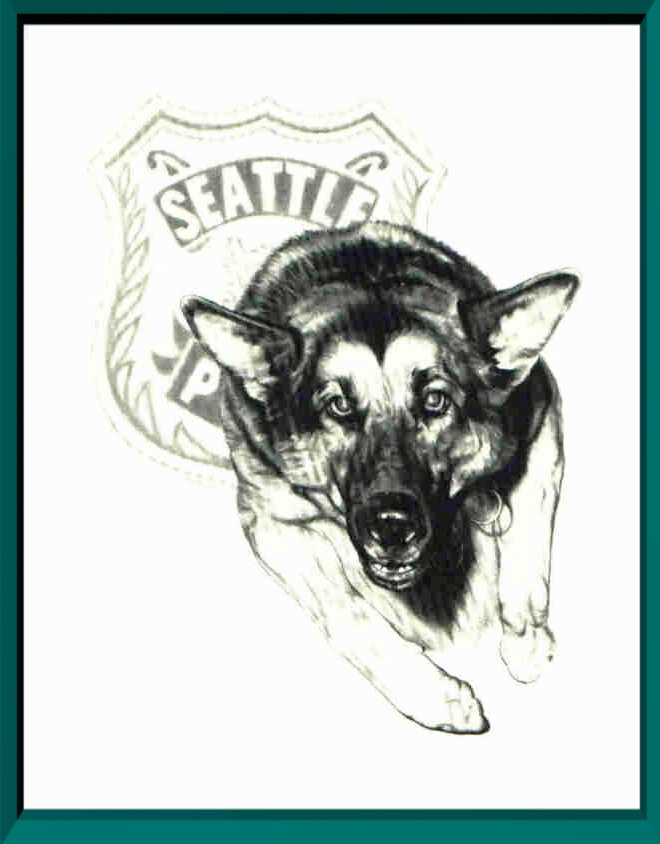 A most appreciated Thank you note from the Seattle K-9 Corps