In Loving Memory of
K-9 SABRE
January 23, 1999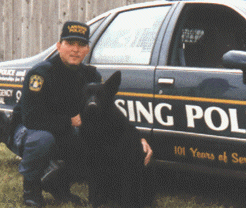 Handlers: Officer Matt Ramsey & Sgt. Mary Stevens
Lansing Police Department
120 W. Michigan Ave.
Lansing, MI 4893

On 1/23/99, K-9 Sabre was killed from hostile fire while defending the lives of his partners, Officer Matt Ramsey & Sgt. Mary Stevens
Officers had responded to the scene of a fight at a local Lansing apartment building. Upon officers arrival, a subject jumped out of a rear, second story window and started running from the officers (gun in hand). K-9 Sabre led officers to a near by house, where the suspect had broken into the basement. In the house at the time were several people who were all asleep, including a six year old little girl. While this felon was hiding in their house (with a gun), the officers negotiated with the accused and tried to get him to come out. He refused to do so. Finally, the officers and Sabre entered the same rear walk out door to the basement that had been broken into by the accused. Upon their entry, the accused opened fire on the officers. Sabre, doing what he was trained to do, went to the threat. During the gunfight, Sabre forced the accused out from behind a brick barricade. When he appeared (and was still firing) he was hit with a fatal shot. Sabre, sustained three hits to the torso while trying to protect his partner and Sgt. Stevens. Sabre died on scene a few moments later with Matt at his side. Matt was devastated by the loss. The Lansing Police Department held a memorial service for Sabre on 1/28/99. Between 500-600 citizens and officers were in attendance, with officers from all over the U.S. Midwest and Canada paying tribute to a true fallen hero. Sabre died probably saving the lives of Sgt. Stevens and Officer Ramsey. Sabre will be truly missed. Supportive citizens from outside the Lansing Police Department are currently seeking donations to purchase ballistic vests for all eight remaining K-9's.