In Loving Memory of
K-9 SOLO
June 5,1998
Partner/Handler: Robin Eckel
Monmouth County Sheriff's Office
(732) 431-7138
50 East Main Street Freehold, New Jersey 07728
My first set of cards sent June , 1998
Police Dog Solo Siege lasts 22 hours in shore town.
Saturday, June 6, 1998 By DON STANCAVISH - and TERESA M. McALEAVY, Staff Writers
Emi Marmorstein has lived in a sprawling colonial-style house in this summer resort town for 48 years. In that time, nothing that has happened on the quiet side street a few blocks from the Atlantic Ocean rivaled the drama that played out Thursday and Friday. Marmorstein and many other residents were ordered to lock their doors and stay inside as police squared off with an armed-robbery suspect -- one suspected of having ties to fugitive cop-killer Joanne Chesimard and the Black Liberation Army -- who barricaded himself in a Newark Avenue apartment. After police bombarded him with a water cannon, stun grenades, and tear gas, and after he reportedly gunned down a police dog, Donald Bunting, 48, finally surrendered Friday.
"I found out it was over because they let me out of my home," Marmorstein said. "What an ordeal!" By 2 p.m. Friday, Marmorstein had joined throngs of people from his neighborhood to swap stories about the chilling 22-hour standoff. It was scary," said Donna Malone, who lives next door to the squat, red-brick apartment building where Bunting took cover. "This was quite an experience."
A state police spokesman said Bunting has ties to the Black Liberation Army and has "maintained periodic contact" with Chesimard. n 1977, Chesimard, who uses the name Assata Shakur, was convicted of killing Trooper Werner Foerster and injuring another trooper who stopped her and two friends on the New Jersey Turnpike in 1973. Chesimard escaped from a state prison in 1979 and has been living in exile in Cuba. Bunting himself had been a fugitive since Monday, when he and LeRoy Adams, 53, allegedly attemped to rob the occupants of an Asbury Park home and then exchanged gunfire with police, officials said. Jones was caught, but Bunting escaped, police said. On Thursday, police received word that Bunting was hiding out in the apartment at 319 Newark Ave., where he has been a "periodic resident," police said. Thursday afternoon, a Monmouth County emergency response team cordoned off a block of Newark Avenue and ordered some nearby residents to stay inside. A few were evacuated, and others who weren't home when authorities set up their barricades were barred from returning. Malone and her parents stayed with neighbors after being evacuated Thursday night. Emergency response workers had to sneak back into the Malone residence during the night to retrieve her father's heart medication. Later Thursday, state police arrived. By nightfall, officials realized the building's phone lines had been snipped from inside. Through Thursday night and Friday morning, police -- and later, Bunting's cousin -- used a bullhorn to unsuccessfully try to talk him out. "This morning, at 6:30 a.m., we heard a big boom," Malone said. State police later explained that the noise was a tear-gas bomb going off. Police said Bunting endured an estimated 50 barrages of tear gas, as well as the deafening noise and blinding light of stun grenades. "He had barricaded the furniture and he withstood the tear gas" using a makeshift gas mask of wet towels and a carpenter's mask, said Alton Kenney, first assistant Monmouth County prosecutor. "It was a siege . . . and we were prepared to wait as long as it took to get him out." At about 8:30 Friday morning, officials sent Solo, a German shepherd from the Monmouth County Sheriff's Department,
into the building. Two shots were fired and the dog was killed, Hagerty said. Authorities also used water from nearby Fletcher Lake to try to flush out the suspect. Officials sprayed high-powered hoses through the front door and second-floor windows early Friday afternoon. "These hoses apparently led Mr. Bunting to consider surrendering," said state police spokesman John Hagerty. The final surrender came after officers drove an armored personnel carrier up to the apartment building and used explosives to blow open the downstairs door. Inside the doorway, they placed a robot with a video camera. The robot also had a microphone that police used to communicate with Bunting. At 1:50 p.m., he surrendered peacefully. Throughout the standoff, "he acted in a paramilitary fashion. He never exposed himself to open fire; he remained calm throughout,"
Kenney said. unting was transported to the Monmouth County Jail in Freehold, where he was being held without bail. Police say he had been convicted in 1989 of drug charges and was in a state prison from 1989 to 1994. As police and emergency personnel dismantled the barricades around Newark Avenue, a cluster of neighbors gathered on a nearby street corner. Among them was a woman pushing a baby carriage. "It was a long night," said the woman, who had to sleep at a neighbor's house Thursday night. If there was a silver lining, she said, it's that the standoff and evacuation drew the neighborhood closer. "We all stayed together," she said.

Service was held on June 10th 1998 in Freehold NJ
Police officers wait in line for their turn to pay last respects to Solo, a slain K-9 dog. photo by NOAH K. MURRAY

K-9 dog Solo eulogized as 1,000 mourners pay respects
Published in the Asbury Park Press 6/11/98 By SHERI TABACHNIK - STAFF WRITER
When Sheriff's Officer Robin Eckel sent his police dog to apprehend a Bradley Beach man during a standoff Friday, he feared he'd never see his four-legged partner again.
Yesterday, K-9 Solo was laid to rest. About 1,000 law enforcement officers and family members attended a memorial service for the 4-year-old German shepherd at the Monmouth County Police Academy. More than 100 handlers from four states brought their dogs and marched them one by one in front of Solo's white casket. Emerald Society of Ocean County, a bagpipe band consisting of law enforcement officers, played "Amazing Grace." A wreath made of brown-tinted flowers, shaped like a German shepherd's face, stood in the background. Solo was shot to death Friday while trying to apprehend Sekou Taiwo Tyehimba, a suspect in a June 1 Asbury Park armed robbery who had barricaded himself inside his apartment. Tyehimba, 48, who legally changed his name from Donald Bunting, is also a member of the Black Liberation Army, a violent and radical separatist group from the 1960s, police have said. "Anyone who has ever lost a pet can begin to appreciate the pain and sorrow which is visibly evident here today," Monmouth County Sheriff Joseph W. Oxley said in his eulogy. "However, few citizens know how great the bond is between a police officer and their dog. "Every law enforcement officer who works with a police dog is keenly aware of the unconditional loyalty of their K-9 partner," Oxley said. "Today we feel a void that cannot be filled." Eckel, who blinked back tears throughout the ceremony, escorted his wife, Dawn Eckel, and their 3-year-old daughter, Carli, to Solo's casket. Mrs. Eckel replaced an American flag atop the casket with a bouquet of three carnations, one red, one white and one blue, and a strand of dog biscuits. She left carrying the flag. A few hours later, eight sheriff's officers, including Eckel, buried Solo next to the academy's memorial for fallen officers.
"My husband called me from Bradley Beach at 7:30 a.m. (Friday) to say that state police asked him to send the dog in and he told me he was supposed to lead the dog in," said Dawn Eckel, who is expecting the couple's second child on June 25. "I cried and screamed, 'Don't go in.' He was crying, too. He knew there was a 95 percent chance that
Solo wouldn't come out alive." But Eckel knew there was no choice. Apprehending suspects was the work Solo was trained to do. At 8:45 a.m., Eckel led Solo to the front of Apartment 7 of 319 Newark Ave., where Solo licked his handler's face, and then alone entered to confront Tyehimba. A few seconds later, police heard two shots. One pierced Solo's skull. He died instantly.
Solo died from a gunshot that hit him above his left eye, said Sherwood M. Gloth, a veterinarian with VCA Freehold Animal Hospital, here. Gloth, veterinarian for all of the sheriff's department's dogs, performed Solo's autopsy Saturday.Solo didn't suffer, Gloth said. "I love animals, but probably this dog saved a policeman's life," Gloth said. "That's what this dog is trained for and that's what his job was. It's probably better than losing a human life." Solo had been on the force for two years, trained as both a tracker and a general patrol dog. In 1997, he aided in locating 16 criminals and 19 missing people. Local businesses, the Fraternal Order of Police and the Policemen's Benevolent Association paid for the service. Higgins Funeral Home, Freehold, donated the casket. Flower Market, Freehold, provided two wreaths. Tyehimba is in New Jersey State Prison, Trenton, in lieu of $810,000 bail. Monmouth County Jail, Freehold Township, where Tyehimba had been incarcerated until Tuesday, had mistakenly reported his bail at $610,000, First Assistant Monmouth County Prosecutor Alton D. Kenney said.
---
In Loving Memory of
SAMSON
February 28, 1986 - October 31, 1998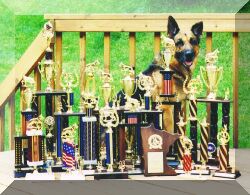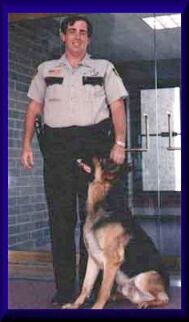 Handler: Kenneth Harrell
Sherburne County Sheriff's Department
Minnesota

I worked for the Sherburne County Sheriff's Department in Minnesota. I got Samson in January of 1987 when he was 11 months old. We attended Minneapolis Police K9 school, March-May 1987. I competed and certified Samson in his first USPCA regional trial in June 1987. He also scored high enough to qualify for Nationals in that trial. We competed in National trials in Lakewood, FL that fall. In 1988 he placed 15th individually and we also were members of the 1st place Regional team at the National K9 trials held in Greenwood, CO. We competed at Regional and National trials every year until 1995. Samson won 1st place in Regional Narcotics certification tests in 1993, 1994, and 1995. He was retired in 1996 when I was promoted to Administrative Sergeant. He lived with me until health problems forced me to put him down October 31,1998. My partners during that period were both German Shepherds; Chyba from 1984-1987 and Samson from 1987-1996. Samson is pictured with some of the trophies he won in USPCA trials. He was trained for both patrol dog and narcotic detection duties and excelled in both. Samson was put to sleep on 10/31/98 and it was the hardest thing I've ever had to do.
I retired from the Sheriff's Department in April 2000 and moved to Oregon. After 2 1/2 years of retirement, I took a job as the Division Commander of Support Services for the Benton County Sheriff's Office in Corvallis, OR.
I currently work there while still attempting to hunt and fish as much as possible.
Ken's website
---
In Loving Memory of
K-9 SPOOKY
1992 - 1998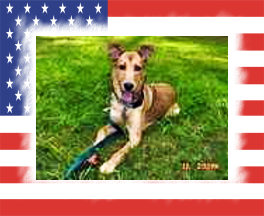 Handler: Waterbury Police Superintendent
Waterbury Police Department
236 Grand St.
Waterbury, CT 06708

Spooky was a Shepherd/Shelti mix female and her job was Explosive Detector.
submitted by Jim Cortina, Dir. CPWDA
---