In Loving Memory of
MWD K-9 RUDY
May 21, 1986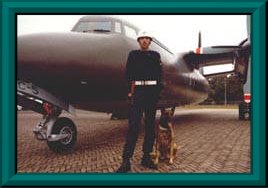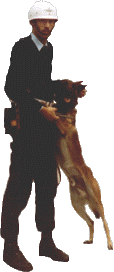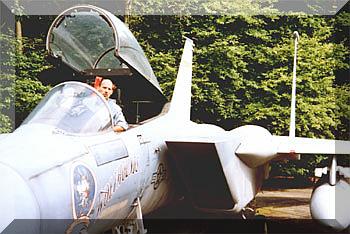 Handler: Mario Warnaar
Royal Netherlands Air Force
(Soesterberg Air Force Base)

Mario's website - A Must SEE... http://www.slobberinwolfhounds.com
K9 Rudy, a Belgian Malinois, was my second buddy to work with during my career with the Royal Netherlands Air Force (RNLAF) at Soesterberg Air Force Base. We obtained several Air Force and police certificates and diplomas. That time Rudy was one of the best dogs of our kennel and so became that in 1985 we took part of the preliminary rounds of the Air Force K-9 dog championship. But we weren't lucky/good enough for the final contest. But that year one of my colleagues saves one's face. He became champion for the fourth time. In times of war, as part of the Ground Operating Squadron, the RNLAF dog handlers operated as explosive specialists/advisers, in concerted action with NBC (Nuclear, Biologic and Chemical) specialists. "Now-a-days," I work in the banking business.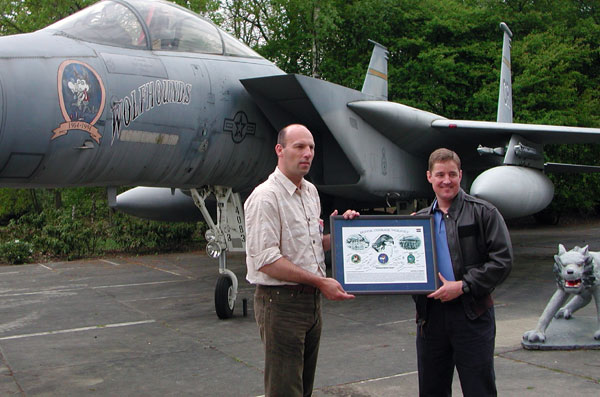 Mario with the commander of the 32nd AOS
special notation: I met Mario on line 11 years ago... He helped me set up my website. I did a horrid job because I didn't know what I was doing, but it was fun. I thought he lived in No. Jersey, not the Netherlands and Jim is from CT, I am in South NJ. Mario came to my rescue along with Jim Cortina, Dir. CPWDA (Connecticut). God Bless them both!!
In Loving Memory of
K9 ROWDY
1994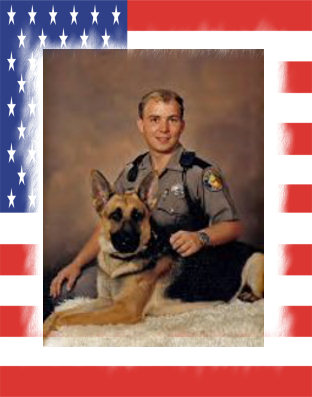 Handler: Trooper Sean Johns
Florida Highway Patrol

K-9 Rowdy began his career in August 1985, after being one of the first graduates of the Miami Police K-9 Training Program and one of the first K-9's assigned to Troop E – Miami's new K-9 Unit. Rowdy was partnered with Trooper Sean Johns and worked South Florida for more than 5 years. Trooper Johns later became one of the first K-9 Instructors and K-9 Evaluators in the State of Florida and used Rowdy extensively as a representative of FHP's K-9 Program. Rowdy had a distinguished career and was responsible for alerts resulting in millions of dollars of narcotic/cash seizures. Rowdy was also involved in many suspect searches for multiple agencies throughout South Florida, and was assigned to FHP's Robbery Suppression Team efforts on I-95. Throughout his successful career, Rowdy was an excellent example of the type of dual personality K-9 that could be used for a children's school demonstration the same day he had apprehended a violent fugitive. Rowdy retired when Trooper Johns was promoted to FHP's Aviation Program, and remained with him as a faithful companion until his death in 1994. Submitted by Bobby Earls
---
In Loving Memory of
K-9 RUDY
June 17, 1988 - August 11, 1997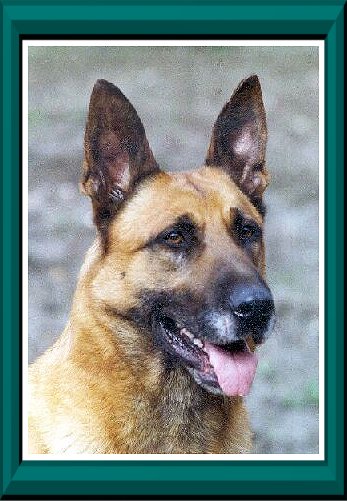 Handler: Wim Van Bochove
Rotterdam Rijnmond Police Department
The Netherlands

I am a K-9 officer for the Rotterdam-Rijnmond P.D. since 1986. K-9 Rudy was my fourth dog. He was a Malinois, born on June 17th 1988. After Rudy got his KNPV certificate PH1 he was bought by the K-9 unit. Also after passing the national police K-9 exam, we worked the streets. Rudy was a very social dog who liked people and other animals. He especially liked our home cat and was his friend. They often they slept together. The first months together on patrol were not the easiest ones. Rudy wanted to be petted by everyone. It was hard to believe that he ever would become a great police dog. This changed when we, as a part of Dutch riot police, had to go to our first soccer match in Holland. When he saw all the hooligans in front of him, he became very enthusiastic and several times he tried to bite them. When the real riots began, he was so anxious to bite someone, he accidentally bit a Lieutenant of our P.D. Not the right person, but a good bite! After that first bite, Rudy learned very quickly and became a great K-9.
In the years that followed Rudy saved his boss and fellow officers more than once when they had to deal with aggression and several burglars that he found. One special call, Rudy and I responded and will never ever forget. It was during the summer season when a lot of people, from all over Europe, come to the Dutch beaches. A big fight started at a camping place. Over 40 people were fighting each other and several people were stabbed. When Rudy and I arrived at the scene I saw one guy stabbing people. The only thing I could do was to let Rudy attack this guy. Rudy bit the guy in the arm and immediately the he started to strangle Rudy and felt down on top of Rudy. The guy really wanted to kill Rudy. A fight for life or death started. Rudy won the fight and the guy had to be taken to a hospital, badly hurt. His arm never recovered completely from this fight. When Rudy was nine years old, it looked like he was becoming an old man. In training it looked like he was constantly in pain. According to the vet his hips were damaged because of all the training and hard labor. It was time to retire. My whole family loved Rudy and everyone was ready to give him a great retirement. When my family and I went away for a holiday, Rudy was taken care of at the K-9 unit. His situation became worse. Colleagues of mine brought Rudy to the vet and than they discovered that he was suffering from cancer. He was in such great pain and his condition was so bad, that the K-9 staff decided to euthanize him on humanitarian grounds. After I got home from holiday I heard that Rudy died. The K-9 that was my partner for 6.5 years was gone. The way I lost him still hurts. I should have been with him those last moments. Rudy was a great animal, a great friend and probably the best K-9 every officer could ever have.
******************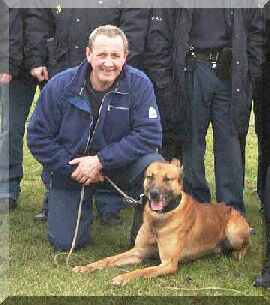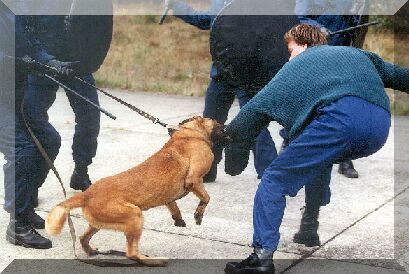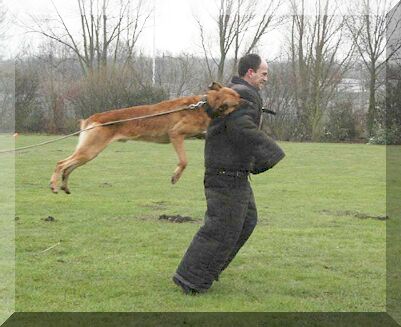 ---
In Loving Memory of
K-9 ROCKY
Born 1986 - 1996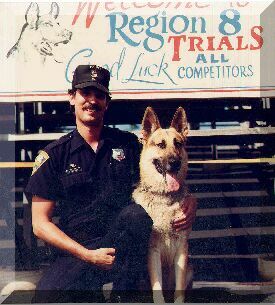 Officer Eric Deltgen's 2nd K-9
New London Police Department
5 Governor Winthrop Blvd.
New London, CT 06320

The passing of Bandit was not to be the end. Rocky, another Black and tan German Shepherd was waiting in the shadows. While bandit was still working, Off. Nott and I were training Rocky. Rocky was donated to the department so with him, the exact date of birth is not known other then he was born in 1986. Rocky was not as formidable as Bandit, as a matter of fact he was much smaller then him. He was the type of dog that would have made a great house pet, not really suited for police work. But, we were short of dogs, we didn't know any better at the time, and we worked him, almost forced him to become a police dog. Rocky would be my second K-9, replacing bandit. We learned a lot with Rocky, but above all we made him into one hell of a police dog. Rocky's specialty was article recovery. For fun I would use pennies or any small item for him to find. Weather it be in a backyard, in a parking lot or even in the water, he would find it. I lost track at the number of keys he found for people who had lost them, even in the snow. Off. Nott and I would joke about Rocky saying the he was really a retriever disguised in a German Shepherd suit. Amongst his finds, Rocky was responsible for finding a rotisserie fork that had been thrown high in a tree. The fork had been used in a serious stabbing, and when the suspect fled, (she) threw the fork in a tree. After being released in the general area Rocky located the fork by alerting to it. That fork would later become instrumental in obtaining a conviction. I used to practice article recovery exercises by planting a knife in a tree and having Rocky locate. I guess all that hard work paid off. In another incident, Rocky located a loaded .380 cal weapon that had been used in a drug transaction gone bad. The suspect had fled from police, and had been able to discard the weapon. The suspect was eventually apprehended but without the weapon. Officers searched the path taken by the suspect during his attempt to flee, but could not find it. Rocky was called to the scene, and in less then two minutes found the weapon that had been buried near an abandoned building. The weapon was loaded and ready to fire. That too was instrumental in obtaining a conviction. Rocky used to like to chase bad guys. In one instance he chase down a car thief that just couldn't be caught. This guy ran like a gazelle and always managed to slip away. This time however, rocky and I happened to be in the vicinity he had been spotted. He was seen driving a stolen car, and as we headed to intercept, this guy just happened to cross our path. He tried to flee with the car but lost control and crashed into a fence. Before you could blink, this guy was out and running. Of course cops being what they are, we all started to run after this creep, forgetting that we had a police dog at our disposal. (myself included). Suddenly realizing that we were being out run, and there was a dog (K-9) there, I called out to Rocky from about 50 yards out. He jumped out of the cruiser where he had been patiently waiting. I commanded him to pursue the suspect. In a flash, he passed by us and continued another
70 or 80 yards beyond and apprehended the suspect in full stride. All the cops that had been there were mesmerized. So much in fact that we almost forgot why we had been running after this guy. Another time, we were doing what we called sneak attacks in the projects. This consisted of several officers approached one of the high rise building from one side, while the other officer approached from the back. Usually what happened is, as the officers approached from the front, the bad guys who shouldn't be there, would run out the back into the arms of the waiting officers in the back. This time Rocky and I were the ones covering the back with open arms. As it turns out, two subjects did exactly as expected and ran into us as we were entering the back hall of the building. At first they were cooperative especially seeing that Rocky had a watchful gaze on them. I was able to pat down the first guy without incident, but when I went to pat the second, he suddenly turn and sucker punched me, then made a run through the courtyard towards another building. Rocky immediately responded and gave chase through the court yard, through a crowd of about 40 people that had gathered, and continued on after the suspect that had struck me. The suspect used a steel door to strike Rocky with and he got close to him in an attempt to keep him away, but that only made Rocky madder. The suspect then tried to flee through the halls of the adjoining building, but before the operation began I had locked all the access doors, thereby locking the suspect inside the hallways of that building. I still clearly remember the loud roar coming from Rocky, just as he entered the hallway of that building after having been struck by the door. I also remember the suspect continuing to fight with the dog and I once I got there, and fight we did. Seemed to last for ever. But all that said and done, I also remember the suspect loosing the fight and crying like a baby in its aftermath. When this all began the suspect had been fully clothed. When it ended, the only thing left unscathed were his underpants. The greatest part of all this, was hearing the residents of the projects cheering the dog as we were battling it out. Rocky earned his respect that day, and many who lived in the projects knew his name. As to the suspect, he ended up with better then 40 puncture wounds, did three years in jail, and has never returned to the projects. Rocky stayed on patrol with me for about 5 years. During his career he was either directly responsible or assisted in over 100 felony arrests. Some being the arrest of a murder suspect, robbery suspects. Numerous narcotic arrests, (even though he was not trained for narcotics). That's where a lot of the article search came to play. And finally located hundreds of dollars in stolen merchandise and or other crime related items. Rocky was also the recipient of several USPCA citation (awards), also certifying with the NAPWDA several times, excelling in Tracking, Article Recovery and Area Searches and Passive Gun Fire. Rocky saw many street battles and as a result eventually had to be retired due to what we believe was post syndrome stress. Here is a dog that would love to do school demos, be petted by children of all ages, but now had become unsteady. The liability became to great. So Rocky retired, became a couch potato, and eventually ended up with a couple who cared for him like if he were their child. Rocky eventually died in 1996 from complications of Lymes disease he had contracted when he was working the streets.
---
In Loving Memory of
K-9 ROOSTER
June 4, 1981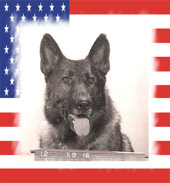 Handler: Officer John Lopata
Los Angeles Police Department
Metropolitian Division, K-9 Platoon
Central Facilities Building
251 East Sixth Street, Room 221
Los Angeles, CA 90014
213-972-2420
Attn: Sergeant Gerry Sola
http://www.lapdonline.org/metropolitan_division
Rooster was searching for a burglary suspect, and while on the roof of a multi-story department store building in Central Area,
he leaped over a two foot parapet. Rooster, who was off leash, fell to his death. The suspect was not apprehended.
Rooster was honored on October 6, 2002 in a ceremony dedicating the California Police Dog Memorial known as Faithful Partner.
Liberty, along with 22 other K9s is listed on the Memorial that is dedicated to police dogs that have died in the line of duty.
submitted by Gustafson, Vickie J <vjgustafson@ucdavis.edu>

K-9 Platoon History
In November of 1979, two Los Angeles Police Department officers recognized an urgent need for specialized canine work in the City of Los Angeles. With fewer officers doing more work, personnel hours and money were being consumed by extensive searches for dangerous felony suspects who had concealed themselves. All too often these searches resulted in the suspects not being located. Community safety mandated that diligent efforts be made to locate these dangerous criminals. In April 1980, approval was given to train two search dogs for a pilot program within the West Bureau of the Police Department. The achievements of these two dogs were so astounding that, after two months, the one-year trial program was declared a total success. During its two decade-plus years of operation, an increasing demand for the unique services provided by the K-9 Platoon has allowed it to gradually grow until the entire City now has rapid access to search dogs on a twenty-four hour basis.
---
In Loving Memory of
K-9 RALPH
June 23, 1997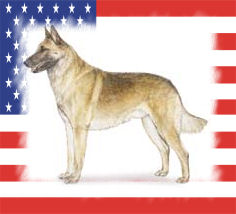 Handler: Cpl. Robin Massy
Fort Lauderdale Police Department
Cpl. Robin Massey and her K-9 dog, a 3-year-old Belgian malinois named Ralph, reponded to a call reporting an attempted breakin in Fort Lauderdale. Ralph followed the suspect into a small lake in a townhouse complex, in the 7900 block of Hamptons Boulevard. The suspect, a seventeen-year old boy from North Lauderdale, held the dog under water and later tried to drown two of the five officers who chased him and the dog. Ralph drowned.