In Loving Memory of
K-9 KAI
March 5, 1994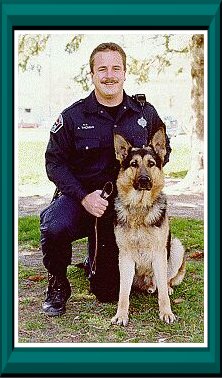 Handler/Partner: Deputy Andy Thomas Now - Detective A. Thomas
Bannock County Sheriff Department
PH: 208-236-7123 [BANNOCK County]
5800 Fifth St.
POCATELLO, ID 83204-7128



Detective A. Thomas
Bannock County Sheriff Department
P.O. Box 4666
Pocatello, ID 83205
As seen on America's Most Wanted June 22, 2002 (prior to birth of this site on June 1999)
NOTATION BY ANDY THOMAS
Although this incident took place over four years ago, it is still in my mind as if it happened last night. There is no way that I could ever try to explain, nor would I even attempt to explain, the feelings that take place between a canine handler and his partner. The kind of bond that I shared with Kai is a bond that I will never share with any kind of animal again as long as I live. The thing that I found surprising while going through this incident was not only the bond that I shared with Kai, but also the bond that canine officers with one another. During this difficult time in my life, I was contacted by canine officers all over the United States. Officers who had never met me nor had they ever heard of Andy Thomas or Kai before, took the time to call me and wish me good luck in the future and to tell me how sorry they were about the past. Although these incidences are many, I remember every conversation as if it were yesterday and those are the conversations and the people which helped me get through what I would say has been the hardest time of my life. At this point in my career I am no longer a canine officer, but that doesn't mean that I don't respect and have the utmost admiration for each and every canine team that is out there today. Since Kai's death, there has been a law in the State of Idaho passed which makes it illegal to harm, harass, or tease any police canine or horse in the State of Idaho. Idaho has also passed a law making it a felony to try to kill or severely wound any canine in the State of Idaho.



Bannock County Sheriff's Department Andy Thomas and "Kai"
On March 5th, 1994, Canine Officer Andy Thomas was called out of his residence at approximately 3:04 in the morning. Dispatch advised Officer officers, along with Idaho State Police, were out with an individual who was armed with a firearm, walking up and down a U.S. highway. Dispatch explained that the sergeants on the scene were asking for a canine unit to respond and asked Officer Thomas and his partner, Kai, to assist them. Shortly after being notified, Officer Thomas and Kai responded to a location which was approximately 40 miles from his residence in rural Bannock County, Idaho. Officer Thomas explained that during the several minutes that it took him to respond to the call, he listened to the radio traffic of the incident from the officers who were already on the scene. Of ricer Thomas noticed that some of the radio traffic between the sergeants and the patrolmen at the scene gave him the sense that the situation was very much escalated from the normal, everyday call. Several minutes had passed before Officer Thomas arrived on the scene and he happened to arrive at the same time that the Patrol Commander, Tom Canfield, arrived. At this time, Officer Thomas, Patrol Capt. Tom Canfield, and Patrol Sgt. Kevin Fonnesbeck gathered behind a patrol car, at which time Sgt. Fonnesbeck briefed Capt. Canfield and Officer Thomas on the situation. He explained to Officer Thomas that their patrol officers had dealt with the suspect in question, a Gerald Cox, earlier in the evening, at which time Mr. Cox was displaying a firearm that was taken away from him by patrol officers. At the time of the first contact, officers did not have enough to take Mr. Cox into protective custody nor had Mr. Cox violated any laws. However, the officers were able to take the firearm into custody until Mr. Cox could, at a later date, come down to the station to pick up the firearm. After officers left, several hours had passed when a Bannock County Deputy Sheriff received a call of a man walking down a highway in front of a home with a firearm. The officer responding to the scene. Officer Michael Dahlquist, had not put the two scenarios together until he arrived at the scene and found Mr. Cox standing on the side of the highway with something behind his back. As Officer Dahlquist started closing in with his vehicle toward Mr. Cox, who raised a very old long-barreled firearm. It was undetermined what kind of firearm Mr. Cox had in his possession, but there was no mistaking that it was a firearm. At this time, Officer Dahlquist backed out of the area and started communicating with Mr. Cox via the public address system while, at the same time, Officer Dahlquist was asking for backup. Shortly after Officer Dahlquist requested backup.
Officer Bob Laumann from the Idaho State Police, along with patrol sergeants from Bannock County Sheriff's Office were dispatched to assist Officer Dahlquist. Officers started to arrive at the scene shortly after the first call for backup, at which time Officer Dahlquist started asking Mr. Cox to place the firearm on the ground. Mr. Cox appeared to be intoxicated or, as the officer he felt that Mr. Cox was high on meth amphetamine because of Mr. Cox's abnormal state of paranoia. Officers at the scene had negotiated with Mr. Cox for approximately three hours by the time Canine Officer Andy Thomas arrived. It was apparent that Mr. Cox was not going to put down the firearm nor did he have any intentions of giving up. At this time, Patrol Capt. Tom Canfield and Officer Andy Thomas talked about the different scenarios that they could use to disarm the subject by using non lethal force. It was determined that the only type of non lethal force that could be used to try to get Mr. Cox to surrender would be the use of Officer Thomas' patrol dog, Kai. At this time, a plan was discussed to have the officers on the far right of Mr. Cox distract him by talking to him and ordering him to put down the firearm, while Officer Thomas and Capt. Tom Canfield would be at the far left of Mr. Cox, at which time Canine Officer Kai would attempt an apprehension on Mr. Cox from behind. Officer Thomas noted that Mr. Cox had placed the gun in his weak hand, which appeared to have been his left. Mr. Cox was screaming at the officers to the left of his location and pointing at them with his right hand. He did several gestures with his right hand while holding the gun with his left hand with the barrel facing down toward the ground in a backwards motion. At this time, Of ricer Thomas felt that this would be a prime opportunity to send Deputy Kai because Mr. Cox was completely unprepared for this type of scenario. Officer Thomas then made sure that Kai had target acquisition; then, after noticing the dog was locked onto the target, Officer Thomas whispered into Kai's ear, giving him the command to apprehend. At this time, Kai left from Officer Thomas' side with his tail up high, his hackles up, and running full speed at his target, Mr. Cox. It is still unknown by Officer Thomas what alerted Mr. Cox to the presence of Kai, but Mr. Cox turned, noticed the police dog coming in, and switched hands with the firearm, shooting once at Deputy Kai. At this time, Kai let out a loud scream, going up into the air on his back haunches, while at the same time, Mr. Cox took the firearm and struck the top of Kai's head with the barrel, causing Kai to go to the ground. Kai then regained his composure and started to come back up for a second time, at which time Mr. Cox was pointing the firearm now toward the group of officers, then in the direction of where the dog was sent. At this time, five of ricers returned fire, shooting the total of 11 rounds toward Mr. Cox, one of which happened to hit Kai in the side of the mouth, taking off the lower side of the jaw. Simultaneously, as Canine Officer Kai was shot, the suspect in this case, Gerald Cox was also shot. He received three gunshot wounds, two to one elbow and one to the other elbow. The left side elbow was hit once with a 9 millimeter round and then a second time with a 12 gauge slug round. The other elbow was hit with a 9 millimeter round. The suspect immediately went to the ground, at which time he was handcuffed and placed into custody. The Life Flight helicopter was called, along with a local ambulance service. Minutes later an ambulance arrived and administered first aid to Mr. Cox. At the same time, Officer Thomas was administering first aid to his partner, Kai. As Officer Thomas arrived at Kai's side shortly after the shooting, he noticed that Kai's eyes were extremely dilated and glossy looking. Officer Thomas sat and talked to Kai for several minutes and other officers at the scene noticed that Kai's eyes were starting to constrict and go back to normal size. At this time, it appeared that Kai had come out of shock and was starting to be more familiar with his surroundings and his handler, Andy Thomas. Officer Thomas noted that the day prior to the shooting, all the canines in his department had gone through a course of advanced first aid dealing with gunshot wounds to their dogs. At this time, Officer Thomas was able to keep an airway established on Kai while, at the same time, taping his lower jaw back up to his mouth, preparing him for the 30 minute Life Flight ride that they both would take. Approximately 25 minutes after the shooting, Life Flight landed and transported both Kai and Officer Thomas to Bannock Regional Medical Center in Pocatello, Idaho. Waiting at the medical center was another Bannock County Canine Officer, Tom Foltz, who transported Kai, Dr. Gerstner, and Officer Thomas to Hawthorne Animal Hospital. During the ride to the hospital, Kai quit breathing and had to be given CPR by Officer Thomas and Dr. Gerstner until they arrived at the veterinarian center. While at Hawthorne Animal Hospital, Kai was taken into an operating room examined; at which point it was determined that the trauma to his throat and lower jaw was too massive and could not be repaired. At this time, Officer Thomas quit doing CPR on his partner and Kai was pronounced dead. Shortly after the shooting on May 5, 1994, all the officers were involved were cleared and given Letters of Recommendation for their bravery during this incident. Officer Thomas and Officer Kai were given Medals of Valor, along with distinguished Medals of Honor through Bannock County Sheriff's Office. Later on that week, Kai was cremated, at which point a large ceremony was held for him in the county seat of Bannock County, Pocatello. Close to 100 canine officers drove to Pocatello and gave their respects to not only Bannock County and Andy Thomas but to the fallen hero, Kai. Shortly after Kai's funeral, Bannock County celebrated the opening of a brand new Sheriff's Office and jail facility. In front of the facility is a large monument which a picture of Kai with the poem, A Call to Give Your All written on the back. During the first month after Kai was killed, Officer Thomas received hundreds, if not thousands, of letters from not only local citizens but people throughout the United States who had heard about this horrific incident and took the time to write to give their condolences. At the same time, an elderly female in the community donated the money for another dog to replace Kai. A short time later, Kai was replaced by another German Shepherd male by the name of Zaire, who remained the partner of Deputy Andy Thomas for approximately one year, until the time he was promoted into the Detective Division.
---
In Loving Memory of
K-9 KIMBO
October 13, 1997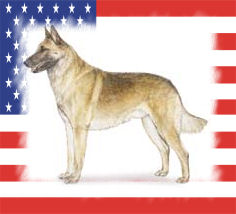 Handler: Officer Kevin Keitz
Hollywood, CA

Kimbo, a K-9 Belgian malanois, was tracking triple homicide suspect Mark Samuel Chong behind the New Kent Motel in Hollywood, when Kimbo began barking at Chong. The suspect fired several rounds, killing Kimbo. Officer Kevin Keitz, Kimbo's handler, fired several shots at Chong, killing him.
---
In Loving Memory of
K-9 KODA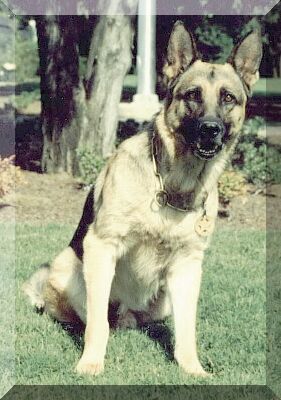 Handler: Rick
Sacarament Police Department
Koda was an asset to Sacramento Police Department. He won numerous awards and loved to compete in local K-9 trials. He apprehended many felons. He also backed up fellow K-9's for example when he helped his friend & fellow K-9 officer K-9 Sammie. The first K-9 team on scene was Officer Dave Kidd and K-9 Sammie. As Sammie was getting ready to go in to apprehend the suspect the suspect kicked Sammie in the ribs breaking two of the ribs injuring K-9 Sammie. Rick and Koda then showed up on scene. Koda was sent into the room the subject closed the door unaware that K-9 Koda was in the room too. The room was pitch black & all that could be heard was someone being slammed up against a door repeatedly. Rick attempted to get into the room fearing for his partner. When Rick was finally able to get into the room Koda had the suspect apprehended. The continuous slamming against the door was Koda slamming the suspect against the door. Koda caught a bad guy and backed up a fellow K-9. Sammie did recover from his injuries & penal code 600 PC came into effect thanks to Officer Dave Kidd Sacramento Police Department. This penal code makes it a felony to cause any type of injury (such as K-9 Sammie received) to a horse or dog being used by a police officer. Good work Sammie and Koda. There was another time when a vehicle stop had been made because the car that was stopped had been a suspect vehicle for having drugs. When Rick and Koda arrived on scene, Rick gave Koda the command to start searching. While searching the inside of the van, Koda decided to do what seemed to be jumping jacks. The Detectives on scene knew that there were drugs in the vehicle. Well Koda's Jumping Jack routine ended up to be Koda "alerting" to the 100 Kilo's of cocaine hidden in the head liner of the van. When Koda wasn't busy being a protection dog or a narcotics dog he enjoyed showing his respect to upper management with a salute. On his off time he enjoyed going to Island Lakes for a swim and a good hike. He loved his family and playing ball. But most of all he enjoyed the quiet hikes with Rick and going and hanging out with the cows at "Auntie Stacy's." Unfortunately age caught up with Koda and after a short lived retirement, he was put to sleep due to the pain he was in for the arthritis and other medical reasons. Till this day we have a portrait of Koda hanging over our fireplace so that he can help his successor "Devo" watch over our family.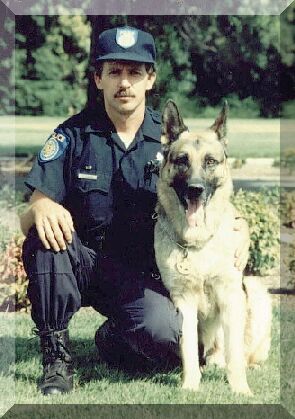 K-9 DEVO