In Loving Memory of
K-9 JORDY
2004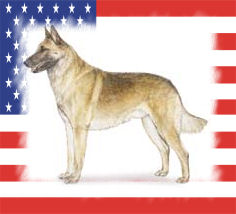 Sgt. Roberts
Union County Sheriff's Office
221 W. 5th St.
Marysville, OH 43040
937 645.4100 fax: 937 645.4170
Visit Department's Homepage
Sheriff's K9 dog euthanized Editor's note: The following information is supplied by Scott Underwood.Deputies from The Union County Sheriff's Office lowered the American flag to half staff today as the agency mourned the loss of one of its own law enforcers. The Sheriff's Office's 6-year-old canine deputy, Jordy, was euthanized Wednesday afternoon as a result of a sudden illness causing permanent paralysis. His death leaves the office without a K9 unit and in grief. Jordy (pronounced Yordy), was a Belgian Malinois and a deputy for the office since May 2004. He and his handler, Sgt. Bob Roberts, were responsible for scores of searches and accomplished numerous apprehensions during Jordy's tenure. "This is a heartbreaking time for our staff and for Sgt. Roberts," said Sheriff Rocky Nelson. "Jordy's relationship with Roberts was one of a true, life-protecting, law enforcement partnership." Born in Scandinavia in 2001, Jordy was a dual-purpose canine purchased by the Sheriff's Office with drug seizure monies. He and his handler were certified through the State of Ohio and North American Police Work Dog Association (NAPWDA). He was trained in obedience, drug and evidence detection, building searches, area searches, tracking, criminal apprehension and handler protection. The Belgian Malinois is known as an intelligent, courageous, and alert breed, with unwavering devotion to their masters. They are used today for herding and as therapy and search and rescue dogs, among other things. The Belgian Malinois also is known as a high-energy breed with a need for regular mental and physical stimulation. It is believed to be an ideal watchdog and guard dog. It is aloof with strangers and can be aggressive toward other dogs and animals. When confined, it often runs in sweeping circles in an effort to stay on the move. It is protective of its home and family.
Aside from presenting many public demonstrations throughout the county at fairs, schools and service organizations, Jordy assisted other Union County law enforcement agencies in addition to the Sheriff's Office. Among his many accomplishments, he helped the Marysville Division of Police track the location of a suicide victim. He assisted other agencies with seven felony drug arrests and 18 misdemeanor drug arrests in 2007 alone. He also helped the Federal DEA with the arrest of suspects and seizure of 173 pounds of marijuana. Jordy received unwavering care from the sheriff's office staff and his handler and showed no previous indications of any particular health problems. On Wednesday morning, Jordy began to display sudden signs of paralysis. He was taken immediately to a local veterinarian who referred Jordy to a specialist in Worthington. After examination, the doctor's diagnosis was that Jordy suffered a fibrocartilaginous embolism (FCE). This is a stroke to the spinal cord, caused by some tissue from the spinal disc entering the spine's veins and putting pressure where the nerves leave the cord for the limbs, damaging them. The paralysis caused by a FCE is immediate with permanent dysfunction. The decision to euthanize Jordy was made. According to Sheriff Rocky Nelson and Lt. Jeff Frisch, efforts to find Jordy's replacement will be made as soon as possible. "Jordy proved to us how valuable a K9 unit is to the sheriff's office and other law enforcement agencies in our county. We certainly won't be able to replace Jordy's own demeanor, but in honor of him and his proven record, we need to carry on his legacy," Frisch said. A public memorial service will be held Wednesday at 11 a.m., at the American Legion Park Sean Doebert Memorial Amphitheater. Among representatives fromother first responder organizations in Union County, Kunits from around the state are expected to pay tributo their comrade. 9 te Memorial contributions may be made to the Union County Sheriff's Office K9 Program, Attention Alicia Bosch, 221 W. Fifth St., Marysville, OH 43040. For further information, contact Lt. Frisch at 645-4150 or Underwood Funeral Home, which is assisting the sheriff's office with funeral arrangements, at 642-7039.
---
In Loving Memory of
K-9 JOS
1996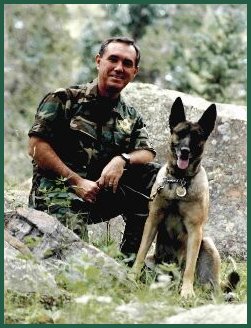 Handler: Officer Mike Thomas
University of Arizona Police Department
2558 E. Eastland St.
Tucson, AZ
85716-5721 Ph: 520.326.4904

Officer Mike Thomas and his K-9 partner "Jos" had conducted a drug search in Tucson for Tucson Police Department. They did not know at the time that it was a meth lab. Shortly after, during the Clark Peak fire on Mt. Graham, K-9 "Jos" was exposed to a lot of smoke from the fire. Jos suffered from major breathing problems and died quickly. It was determined later that Jos suffered damage to his lungs resulting in extensive scaring. It was determined that the lung damage was attributed to the meth lab search which
lead to his death. submitted by M. Thomas
---
In Loving Memory of
K-9 JAKE
June 1997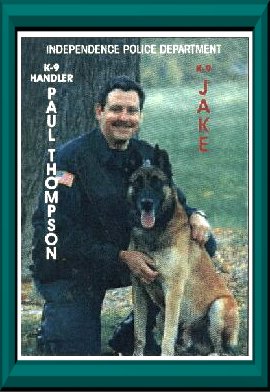 Handler: Officer Paul Thompson
Independence Police Department
223 N. Memorial Dr.
Independence, MO 64050
816.325.7271

K-9 Jake was a Belgian Malinois and began duty on June 11, 1991.
His duties were Patrol & Narcotics Detection. Personal Message: Jake says,
"Only fools break rules."