In Loving Memory of
K-9 IRON
January 30, 1997
Medal of Valor Awarded May 13, 2001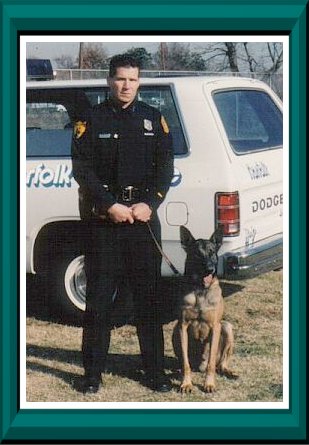 Handler: K-9 Officer James Losee
Norfolk Police Department
Police Administration Building
100 Brooke Ave. Norfolk, VA 23510

4 years later, May 2001 Officer Losee received the above medal.
K-9 IRON January 30, 1997
After 0010 hours on January 30, 1997 in the Oakmont Section of the city of Norfolk, VA. Officers responded to a home invasion robbery in progress. The victims were inside on the phone to the dispatchers. When a Second Patrol Division Officer attended the front door to assess the situation, two suspects fled out of the rear window. Officer Jim Losee and His K-9 "Iron" were covering the rear as the suspects tried to flee. Officer Losee gave 3 verbal warnings to the suspects who refused to stop, and released his dog "IRON" to apprehend them. "Iron" apprehended one of the suspects and the suspect fired a gunshot into Officer Losee and "Iron's" direction. The gunshot struck "Iron". The dog released the suspect and then immediately re-engaged him one more time and was shot again, causing him to release the gunman a second time. Even after being shot two times "Iron" went after the suspect a third time. This time the suspect shot "Iron" two more times with a 9mm semi-auto pistol, killing "Iron". Officer Losee returned fire immediately striking the suspect. The suspect ran approximately 200 yards before collapsing near a fence, and died at the scene . The suspect was 20 year old Oren Harrison. Harrison was wanted for First degree Murder, sexual battery, kidnapping, and burglary by Miami's Metro/Dade County Police. K9 "Iron" was a six year old Belgian Malinois that had been with the Norfolk Police Department three years.
************
Policeman's effort brings K-9 officer belated medal of valor

By CINDY CLAYTON, The Virginian-Pilot© May 13, 2001
NORFOLK -- K-9 Officers Ron Godwin and James Losee were checking equipment and gathering keys one night last spring when they struck up a conversation, which turned to the subject of awards. Godwin was about to receive a commendation and wanted to see Losee's medal for a shootout in 1997. Losee had shot and killed a suspect who fired at him and his 6-year-old Belgian malinois, Iron. The dog was gunned down. After that night, the story mostly was recounted for investigators and the attention was all on Iron. That was fine with Losee, because Iron probably saved his life. The dog was buried with full police honors. His funeral drew widespread attention and was attended by K-9 officers from across the state and as far away as North Carolina. His death inspired cards, letters and awards from across the country. His name was placed on a wall at the American Police Hall of Fame in Miami. But Iron and Losee were never officially recognized by the Norfolk Police Department. Losee didn't have a medal. That's not right, Godwin thought. Something should be done. He would nominate Losee and Iron to the department's awards committee. But first, he wanted to hear the details.


It would be four years before most of Losee's colleagues would hear the details of the running gun battle. It took four days and several drafts before Godwin's nomination letter was perfect. A month later, he heard that the awards committee had voted unanimously on a medal of valor. Losee, who now patrols with a German shepherd named ZAK, accepted his medal at a ceremony earlier this year. He also received a white and gold police cross for Iron, who is buried in Garden of the Pines Pet Cemetery on Salem Road in Virginia Beach. Lobo, a Norfolk police dog hit by a car in 1983, rests beside him. Losee still insists that Iron was the hero that night. Godwin thinks Losee was, too.``It takes a lot of guts to stand there and fire back,'' Godwin said. ``I thought it was an extremely brave thing to do.'' Reach Cindy cclayton@pilotonline.com / or 446-2540.
thank you Jim & Deborah for the photos.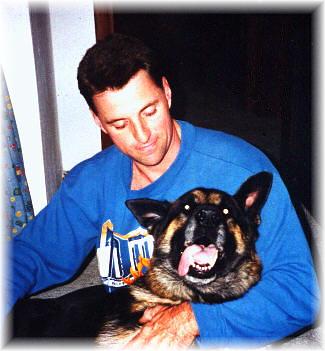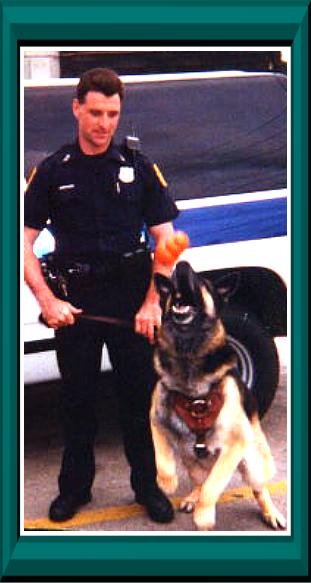 Jim & K-9-Zak
Just a short note to let you know that K-9 Zak is now retired. His last evening on the street was Saturday. He served me for 4 great years and we made many arrests. He will now retire and is our home security K-9. I have a new dog named Jaymo. He is from the Netherlands. I think we will have a great career together also. hope all is well with you. Thanks for the great K-9 site.

Update... new partner in 2009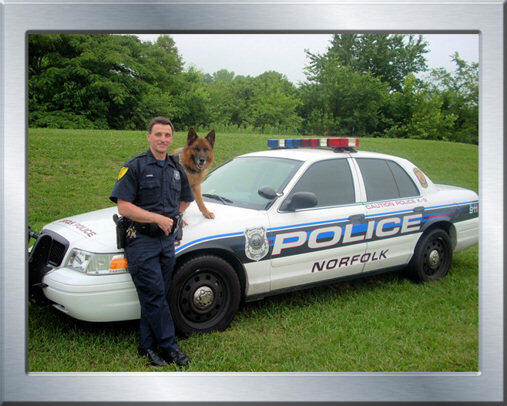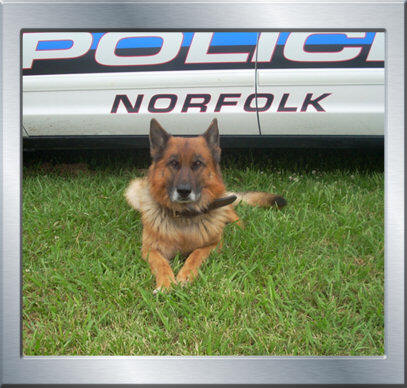 Meet latest partner, 2009 - K9 ............

Previous K9s are Faro, Zak and Jaymo ==== need information.....