In Loving Memory of
K-9 BILLY
September 6, 1988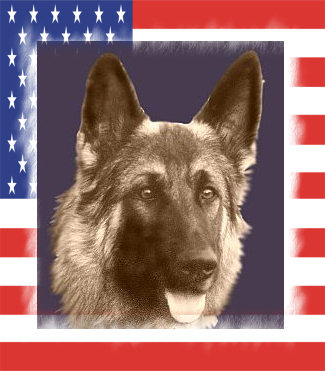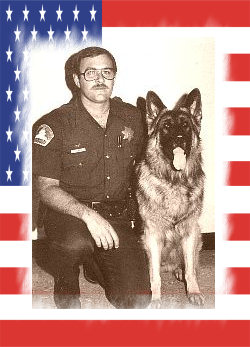 Handler: Keith Schmalz
Sacramento County Sheriff's Department
711 G Street
Sacramento, CA 95814
Website: http://www.sacsheriff.com/
UPDATE:
Law officers honor canine companions killed in line of duty
ShareThisBy Hudson Sangree hsangree@sacbee.com
Published: Wednesday, Apr. 1, 2009 - 12:00 am | Page 1B

A police dog whose slaying changed state law was among 11 canines honored at a memorial service on the UC Davis campus Tuesday.
Retired sheriff's Lt. Keith Schmalz lost his K-9 partner, Billy, in 1988. The dog was shot twice by a suspect the dog tackled in an apartment complex near Stockton Boulevard and 65th Street.
Billy's story helped change state law, making killing or injuring a police dog a felony in California.
The dog was tenacious and protective on the job, Schmalz said, but gentle and loving with the deputy's young children at home.
Schmalz said he still regrets not catching up to Billy fast enough the day he died. By the time he reached the dog, Billy had been gunned down. The deputy said his wife never worried about him while Billy was at his side. He remembered when Billy leaped from the car and pulled an attacker off him as the man tried to grab his gun. "He was always there for me," Schmalz said.
The names of police dogs killed in the line of duty are engraved on the "Faithful Partner" memorial near the University of California, Davis, veterinary teaching hospital, where the bronze figure of a German shepherd stands alert.
Tuesday's service included a bagpiper and a procession of K-9 officers and their dogs from across the state.

Among those honored was Ado, a German shepherd who died after being hit by a car on 47th Avenue. His death, on Jan. 18, left Deputy Anthony Jenkins still grieving for his K-9 partner. Like most police dogs, Ado lived with the handler and his family. With canines doing double duty as family pet and working companion in dangerous situations, a deep bond forms between dog and officer.
"Some days are better than others," Jenkins said Tuesday. "I still miss him."

*************************************
K9 Billy from the Sacramento County Sheriff's Department was honored today and his name added to the California Police Dog Memorial known as Faithful Partner. The Memorial is dedicated to police dogs that have died in the line of duty.
K9 Billy and his partner, Deputy Keith Schmalz, were on patrol in September, 1988 when they saw a car coming out from behind closed businesses. Schmalz followed the vehicle and saw the occupants throw something out of the car. The officer attempted to stop the vehicle and a pursuit ensued. The pursuit ended at the rear of an apartment complex where two of the three occupants of the vehicle ran from officers. The cover officer chased the passenger while Deputy Schmalz and Billy went after the driver, chasing him into the apartment complex. Schmalz slowed as he checked out the vehicle to find another juvenile suspect, while Billy continued on in pursuit. Deep into the complex, Deputy Schmalz located his dog. Billy had been shot twice with a .22 caliber revolver and lay dying on the sidewalk. Officers rushed Billy to an emergency veterinary clinic where he died. Billy's courage and sacrifice in the line of duty helped change the law to make injury or death of a K9 officer a felony.
On March 31, 2009, K9 Billy from the Sacramento County Sheriff's Department was added to the California Police Dog Memorial known as Faithful Partner. The Memorial is dedicated to police dogs that have died in the line of duty. The Faithful Partner Memorial is located at the University of California-Davis campus. submitted by Vickie J Gustafson
---
In Loving Memory of
K-9 BARON
January 1991 - July 5, 1997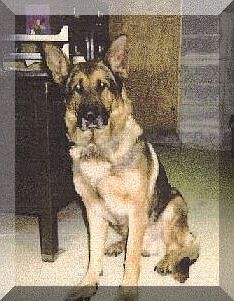 Handler: Deputy Doug Bolser, Jr. (Now Lt. Bolser)
Cleburne County Sheriff's Department
914 South 9th Street
Heber Springs, AR 73543
Officer loses partner, friend, when county drug dog dies. By Gail Allen - Sun Times
Saturday was a day of mixed emotions for Cleburne County Deputy Doug Bolser. It was the first birthday of his son, Colton, and it was the day he lost his faithful friend and partner of eight years. Baron, Cleburne County's German shepherd police dog, died following complications from prostate surgery. He had been ill for several years with a condition similar to muscular dystrophy before the prostate trouble. "The surgery weakened him to a point that he just couldn't recover, I took him in to have him put to sleep because he was in so much pain." He talked to Baron on the way to the veterinary clinic and said that he felt the dog understood what was happening. When they arrived at the clinic, a shot to end his pain wasn't necessary after all. Within one minute, he laid his head over and died. He died on his own terms. Baron lived at the Bolser's home in Concord with Dough, his wife Shannon and their two kids, Colton and Shyanne. He went to work with Bolser almost every day for eight years. He could read me like a book and I could read him. He had two roles to play. He was a good friend, a part of the family, yet at the same time, he was an officer. He was somewhat of a local celebrity in this area appearing at school programs in Cleburne and surrounding counties. He could be as playful as a pup around school children, yet turn deadly serious if his handler was threatened. The sheriff's office acquired Baron when he was two years old. These dogs are bred in Germany only for police use and are exported to the United States under very strict conditions. "Isco" was the name given to him by his German trainer and was the name Bolser used when giving him commands. All the commands were also given in German. He was trained to put his handler's safety above his own and h proved this many times. In one incident, Bolser and another officer answered a domestic dispute call that turned violent. Baron got between the officers and the suspect and wouldn't budge even when the suspect began choking the dog. If we hadn't had the dog, one or both of us would have been hurt. In another incident, a suspect was hidden under bushes. Instead of me going in, the dog went. The man who was wielding a broken beer bottle as a weapon was dragged out of the bushes by Baron. He then stood between the suspect and the officers risking his own life to save the officers. Special thanks from officer Bolser and the Cleburne County Sheriff's Dept. are expressed to Dr. Lee Morris and is staff who worked hard to save Baron's life. Thanks are also given to the two people who made it possible for Baron to come to Cleburne County. The couple who prefer to remain anonymous, donated approximately $6,000 toward the purchase of the dog. The county has no immediate plans to purchase another dog. I cannot even think of replacing him. The county owns a second police dog, Bandit, who lives with another officer. Baron will be cremated and his ashes will remain with the Bolser family. He got a lot of drug dealers off the streets and saved me and other officers from injuries. I just want to say good-bye to a faithful friend and partner. Drug dog Baron hoarse, but up and running after swallowing ball Previous story about Baron April 16, 1994 by Sherry Snow, Democrat-Gazette Searcy Bureau Baron, the Cleburne County drug dog, recuperated this week after getting a training ball caught in his throat Tuesday night. The 4 year old, 105 pound German shepherd was working with his trainer, Deputy Doug Bolser, when the incident occurred about 7:30 p.m. Bolser rewarded Baron after their training session by throwing him a 2 inch ball with a hole through the middle. This ball is called a "Kong." The ball bounced and entered the dog's mouth, far enough down its throat that he sucked it down. The hole apparently did not provide an air passage. Deputy Bolser had to dig down his throat since the ball was sideways and keep his fist in his mouth to provide a passageway. Bolser who keeps the dog at his home at Wolf Bayou, 20 miles from Heber Springs, called the sheriff and headed for a veterinarians' office. He drove about ten miles with his hand down Baron's throat until he me the sheriff. Then got in the sheriff's back seat and maneuvered Baron beside him, maintaining the air passage. It was a very tense situation, it scared me to death. The lawmen took Baron to Dr. Lee Morris, a local veterinarian, who removed the toy in about five minutes. The sheriff carried the dog into the clinic because Bolser could not risk removing his hand. Bolser said the dog bit him several times during the trip. He clamped down, he's up and running today, although he is a little hoarse. We are going to a bigger ball now, the best they make. He's doing ok, but not barking real well yet. He's getting lots of TLC and a few days off.