In Loving Memory of
K-9 ASK0
May 19, 1981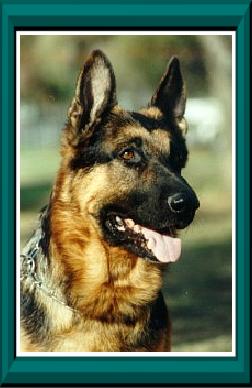 Handler: Officer Ken Kramerman
Now Lt. K. Kramerman
Redding Police Department
1313 California Street - Redding, CA 96001
530 - 225-4289 - email PD
(Memorialized Oct. 5, 2002)


K-9 "ASKO" was a 3 1/2-year-old German Shepherd imported from Germany. He was a SCH I. He worked the street with his partner, Lt. Ken Kramerman, for a little over two years before his death. Asko was responsible for over 60 arrests and 25 justified street bites. He was the first and only dog killed in the line of duty for the Redding Police Department. On May 19, 1981 at approximately 0600 hrs Asko and his partner were called out from home to respond to the Shasta County Jail. There were five individuals that had escaped from the jail. The inmates were reported to be armed and were possibly on the roof of the jail. The roof of the jail has a three-foot wall surrounding the perimeter also on the roof were numerous air conditioning units and many other places the escapees could hide. Due to the fact the escapees were reported to be armed, and the fact the roof had a three-foot wall around the perimeter the officer elected to let Asko search the roof area off leash.As Asko began his search his ears and tail went up indicating he had picked up a scent. He made his way across the roof and followed the scent by jumping over the three-foot wall and falling three stories to his death. Apparently the escapees had made their way off the roof to the ground and the dog followed the scent.
End of Watch: May 19, 1981
**********
K-9 Redding police dog's name on memorial Memorial to honor fallen police dogs Alex Breitler - Record Searchlight 225-8344
ASKO - October 05, 2002 — 2:23 a.m.
Asko's ears perked and his tail shot up. He'd caught the scent of five escaped inmates on the roof of the old Shasta County Jail. Eager as always to do his job, the German shepherd police dog followed his nose and leaped over a wall, unaware there was nothing but empty space on the other side. He fell three stories to his death. Two decades later, Asko — the only Redding police dog killed in the line of duty — will be among 19 dogs honored at a state K-9 memorial to be unveiled at noon Sunday at the University of California at Davis School of Veterinary Medicine. "He was an exceptional dog," recalled Asko's handler, then-officer Ken Kramerman, now a lieutenant in the same department. "It was no different than losing a human partner for me." The memorial, named "Faithful Partner," includes a star-shaped pedestal with plaques listing the names of the dogs, and a statue of a German shepherd wearing collar and badge. Police dog teams from all over the state were expected to attend the ceremony. Each of the dogs' stories has a different ending, but all are tragic. One dog was stabbed by a rape suspect during a search. A second was shot while sniffing out a gunman in a park. A third was hit in the head with a pair of pliers by a car-theft suspect. Asko, 3 years old when he died, was imported from Germany and worked the streets with Kramerman for two years before his death. In that time he was credited with 60 arrests and 25 justified bites. He was both a cop dog and a family dog, living at Kramerman's home during the day and working with him at night. Most police dogs get a bit tired on the graveyard shift. Not Asko. He'd stay awake the whole time, his handler said. Even on Kramerman's days off the dog was raring to go. "He'd be at the door looking at me, wagging his tail, saying, 'Come on, let's go,' " Kramerman said. On May 19, 1981, Kramerman was called at home about 6 AM. He was asked to bring Asko and join in the search for the inmates, who were believed to be armed. The pair went to the roof, which was cluttered with air conditioning units and all sorts of hiding spots. A 3 foot high wall circled the perimeter. Kramerman gave Asko a search command and let him off his leash to follow the scent, figuring the wall would keep him safe. "He wasn't going to walk over and just fall off the edge," Kramerman said. But Asko in his enthusiasm jumped over the wall and fell to the ground. He died a short time later. Kramerman lost not only his work partner, but his family dog. "That was part of the job," he said. "It's something you don't think about. You know the risks." The Department of Justice earlier this year sent letters about the memorial to all law enforcement agencies to collect a list of dogs to be honored. Organizers of the memorial say there are 15,000 police dogs in the United States, including bomb- and drug-sniffing dogs. "They really enjoy what they do," Kramerman said. "People don't understand how valuable those dogs are. They do the work of basically hundreds of officers." Kramerman still thinks of Asko occasionally and has pictures of his canine friend.
"I lost a partner," he said. "That's what he was."
---
In Loving Memory of
K9 ABBY
July, 1992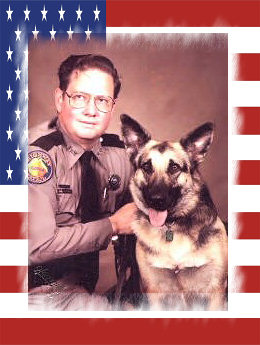 Handler: Trooper Chapman
Hillsborough County Sheriff's Office
Florida

K9 Abbey laid down her life for her handler and expected nothing in return. K9 Abbey protected her partner with her life, and was the first in to find drugs and weapons, and was the last to leave. Even though K9 Abbey did not take a bullet to end her life, she and her partner endured years of pain and suffering from a silent killer chemical at the hands of a drug dealer.
K9 Abby is hereby recognized for her acts of courage and commitment to basic law enforcement functions of protection of life or property, enforcement of laws, preservation of the public peace, prevention of criminal acts or apprehension of criminals.
K9 Abbey, donated by the Hillsborough County Sheriff's Office, was one of the original four canines deployed by the Florida Highway Patrol in 1984. After completion of training with her assigned handler, Trooper Richard "Spanky" Chapman, they reported for duty on the Florida Turnpike.
During her career, K9 Abbey was responsible for over 797 felony arrests, confiscating over $47 million dollars in illegal narcotics and over $725,000 in drug related currency. K9 Abby's outstanding and diligent work efforts were noted by criminal elements. It was well known that among the criminal element, rewards had been offered for the elimination of K9 Abbey and Trooper Chapman. On November 18, 1988, while conducting a canine sniff of some narcotics, K9 Abbey was overcome and fell to the ground. The unknown chemicals also momentarily overcame Trooper Chapman. Soon thereafter, Trooper Chapman was diagnosed with a life threatening illness that was subsequently determined to be work related and a direct result of this exposure. K9 Abbey was retired in June 1991 and as a result of this criminal act of aggression, died in July 1992 of a rare liver cancer, directly related to the 1988 incident.
submitted by Bobby Earl